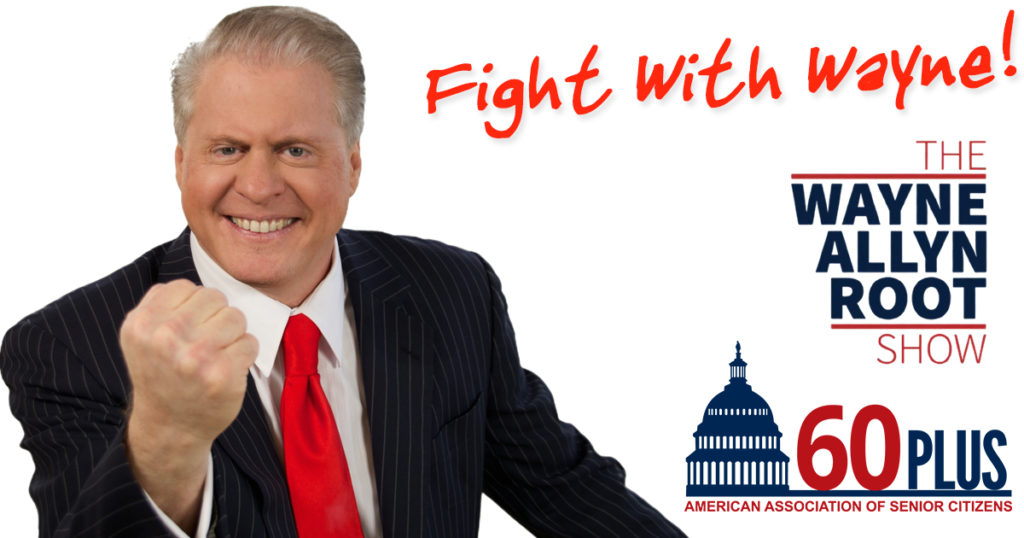 Hello, I'm Wayne Allyn Root. Most of you probably know me as a conservative talk radio host or as a best selling author of numerous books.
Guess what? This July I'm hitting the Big 6-0. So, suddenly the 60 Plus Association is just what the doctor ordered!
I'm joining millions of Americans in the 60 plus group. And you know what? WE'VE GOT THE POWER. And it's time to use it…like a club over the head of the DC Swamp.
Did you know that senior citizens in the United States have a net worth of more than $1.6 TRILLION? AND a majority of seniors are invested in the stock market, with an average investment of $100,000!
Americans over 60 possess tremendous wealth and therefore we can wield tremendous power. Now is the time to leverage that power and take our country back!
Are you sick and tired of these major corporations, public on Wall Street giving YOUR money to radical, extreme, anti-American and socialist causes? Are you sick of the big tech overlords cancelling and censoring us because we're conservative?
The 60 Plus Association is like the cavalry riding to the rescue. We're like the Teamsters Union for anyone 60 and above. Like me.
We fight for YOU!
We have launched "the Corporate Accountability Initiative" to send a message to public companies on Wall Street. We own your stock. We fund your companies. We have the power. Stop disregarding us, stop offending us, stop screwing us over. Or we'll pull our money from your companies.
Anything you are willing to invest will help us fight the fight. Please consider a $100 contribution (or more) so that we can deliver this message to other seniors across the country by helping us purchase ads on conservative talk radio.
It is past time for Main Street to send a clear message to Wall Street.
About Wayne: Wayne Allyn Root is a nationally syndicated conservative TV and radio host known as "the Capitalist Evangelist" and "the conservative warrior." He is a CEO, business owner, business speaker, conservative media commentator and best-selling conservative author of "Angry White Male" "Murder of the Middle Class" "The Ultimate Obama Survival Guide" and "The Power of RELENTLESS!" He is host of "WAR Now: The Wayne Allyn Root Show" at www.USAradio.com and www.NewsmaxTV.com For more, visit his website: www.ROOTforAmerica.com. Follow him on Twitter @RealWayneRoot
"The politicization of corporate America is troublesome. Transparency, fairness and tolerance of all points of view are critical."
– Saul Anuzis, President 60 Plus Association