Happy 4th of July: Still the greatest country and earth. Sure, we have our failings and challenges, but we still live in the greatest country on earth.
Think about it, it's the only country in the world where people from every corner come to…willing to risk their lives and families to get their share of the American Dream.
We are a generous and caring people that make the world a better place. We have made mistakes and don't always act consistently around the world…let alone at home.
But having said that, there is no better place to live, work, and raise a family. It's a country worth fighting for, both on the battlefield and at the voting booth.
God Bless America!
Biden's Inflation: This 4th of July will be the MOST expensive in recent history as Biden's and the Democrat's policies continue to push prices up on everyday items through the roof.
I think this weekend much of America will feel the pain the Democrat's policies are causing….from higher gas prices, rising grocery bills, defunding the police, WOKE policies from the school board to the corporate board room…Democrats have made things worse.
Moving on Up: Americans across the country are voting with their feet. I just hope they remember why they moved and don't bring their voting patterns with them.
Elections have consequences and we must remind those fleeing states like California and New York that these great states have been decimated by years of liberal, progressive Democratic policies that have hurt every resident…to the point of many moving.
As you vote with your feet, remember why you did as you vote at the ballot box!
Read more below and follow me on Twitter – @sanuzis  
–Saul Anuzis
---
60 Plus Weekly Video Rewind
In this week's video rewind- There is growing concern over federal plans for the 2022 election, Ketanji Brown Jackson is sworn in to the Supreme Court, and Joe Biden calls for the elimination of the Senate filibuster!
https://thefederalist.com/2022/06/23/yes-biden-is-hiding-his-plan-to-rig-the-2022-midterm-elections/
https://www.foxnews.com/politics/supreme-court-justice-ketanji-brown-jackson-sworn-becoming-first-black-woman-high-court
–https://thehill.com/homenews/administration/3542471-biden-calls-for-filibuster-carveout-to-protect-abortion-rights/
---
Inflation Hits July 4 Cookouts With Food Prices Up as Much as 36%Add Fourth of July cookouts to the list of what Americans will pay more for this year — a lot more.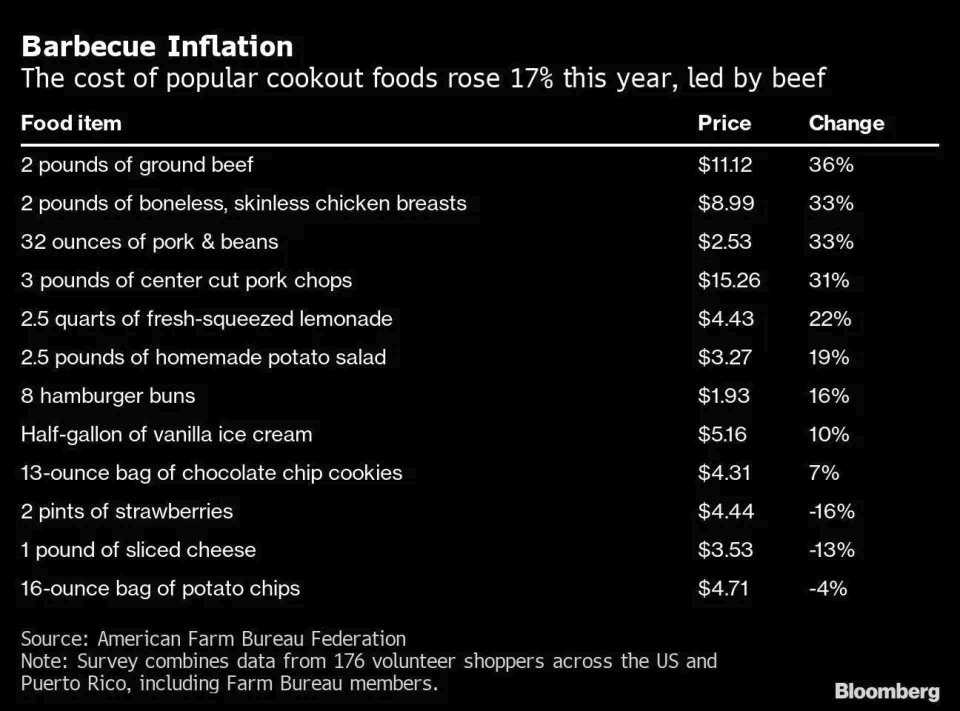 Ground beef prices are up 36% from a year ago, while chicken breasts gained by a third, according to a survey from the American Farm Bureau Federation. Overall, revelers can expect to spend 17% more on food for a barbecue, marking the biggest increase since the lobbying organization began tracking data a decade ago.
In 2021, the cost of an Independence Day cookout declined by less than 1%, according to the group. But much has changed since then. Costs for fuel, labor and key farming inputs like fertilizer have soared. Russia's invasion of Ukraine has worsened the situation by disrupting global agriculture supply chains, according to Roger Cryan, chief economist for the Farm Bureau.
Paying more for burgers and lemonade (up 22%) hits just as one measure of US consumer sentiment fell to an all-time low. How that will impact spending remains to be seen, but the shoppers did pull back in May, and there are more predictions of a looming recession.
---
Inflation: Reagan and Trump vs. Carter and Biden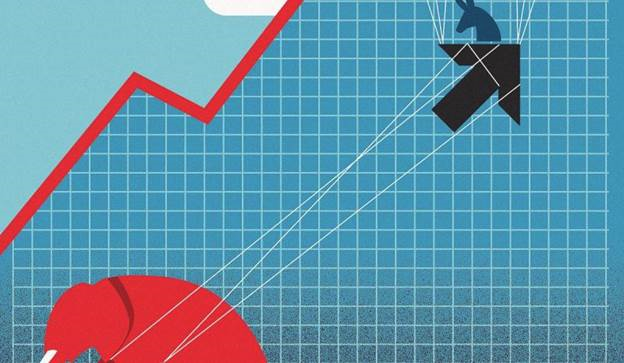 The results of pro-economic growth, supply-side policies are clear.
Americans suffering from rising prices and the highest inflation in 40 years need to demand the results Presidents Ronald Reagan and Donald Trump gave them. They need to reject the policy failures of Presidents Jimmy Carter and Joe Biden.
The difference in economic outcomes is not theory or an ideological or political position. The difference in everyday pocketbook results is a purely historic fact.
Big Government socialists (as I outline in my new book, "Defeating Big Government Socialism") have to be reality deniers. As Theodore White warned back in 1972, liberal ideology has become a liberal theology. Ideologies can evolve. Theologies must be obeyed.
Washington Post columnist Catherine Rampell recently gave us a perfect example of left-wing reality denial when she wrote, "Republicans demagogue about President Biden's supposed 'war on fossil fuels' and socialism. Neither party has a serious plan for dealing with inflation overall or gas prices specifically."
Given the history of the Reagan and Trump administrations, it is hard to believe that a columnist at a major newspaper could be so misinformed about the real world.
---
More than 1 million voters switch to GOP in warning for Dems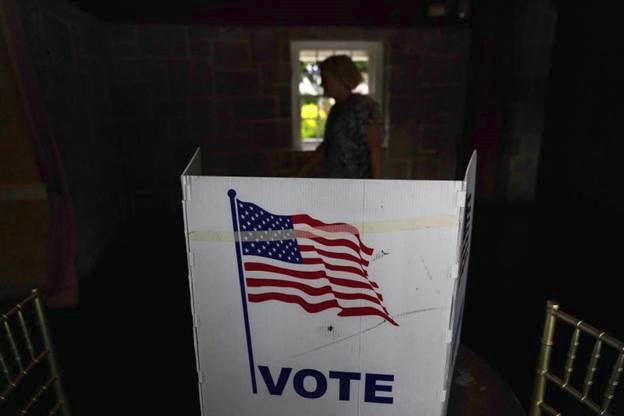 A political shift is beginning to take hold across the U.S. as tens of thousands of suburban swing voters who helped fuel the Democratic Party's gains in recent years are becoming Republicans.
More than 1 million voters across 43 states have switched to the Republican Party over the last year, according to voter registration data analyzed by The Associated Press. The previously unreported number reflects a phenomenon that is playing out in virtually every region of the country — Democratic and Republican states along with cities and small towns — in the period since President Joe Biden replaced former President Donald Trump.
But nowhere is the shift more pronounced — and dangerous for Democrats — than in the suburbs, where well-educated swing voters who turned against Trump's Republican Party in recent years appear to be swinging back. Over the last year, far more people are switching to the GOP across suburban counties from Denver to Atlanta and Pittsburgh and Cleveland. Republicans also gained ground in counties around medium-size cities such as Harrisburg, Pennsylvania; Raleigh, North Carolina; Augusta, Georgia; and Des Moines, Iowa.
---
A mass exodus from the Democrats' America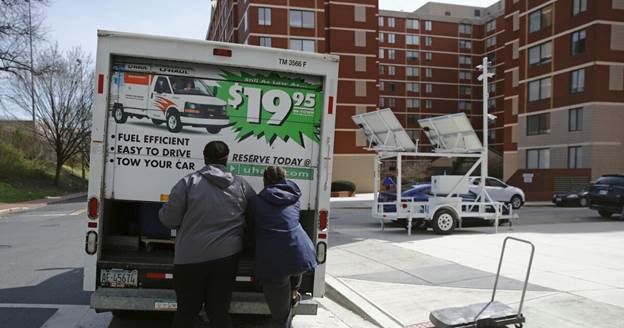 As the Washington Examiner reported this week, the end of the COVID-19 pandemic has done nothing to arrest the trend of people fleeing large cities in liberal coastal states for more pleasant and orderly locales, particularly in the Mountain West and the Sun Belt.
A mixture of unreasonable pandemic restrictions, rising crime, lawlessness, and hostility toward employers has forced this continued urban exodus.
A Census Bureau report released late last month shows which cities and towns have gained population and which have lost it. The data demonstrate that the states and cities that imposed the most draconian COVID-19 restrictions were very likely to lose population. But the fact is that the data are quite similar for the period between 2018 and 2019, when COVID-19 was not a consideration. What towns and cities gaining population generally have in common both before and during COVID-19 is that they generally live under laws made by Republicans. What towns and cities losing population have in common is that they generally live under Democratic rule.
It is hardly a coincidence that all 15 of the 15 fastest-growing cities and towns between July 2020 and July 2021 are in states that Republicans govern: Arizona, Texas, Florida, Tennessee, and Idaho. And 14 out of the 15 fastest-declining cities during the same period were in states that Democrats governed at the time.
What towns and cities gaining population generally have in common both before and during COVID-19 is that they live under laws made by Republicans. What towns and cities losing population have in common is that they live under laws made by Democrats.
Not all Democratic states and cities are equally anti-business, but COVID-19 helped bring out the totalitarian side of many state and city governments, driving away and keeping away many former and prospective residents. The Democratic states that were once the biggest draw (Colorado and Washington, a state with no income tax) dropped off the growth lists thanks to COVID-19.
---
Tale of 2 summits: 'America's back' to America's backsliding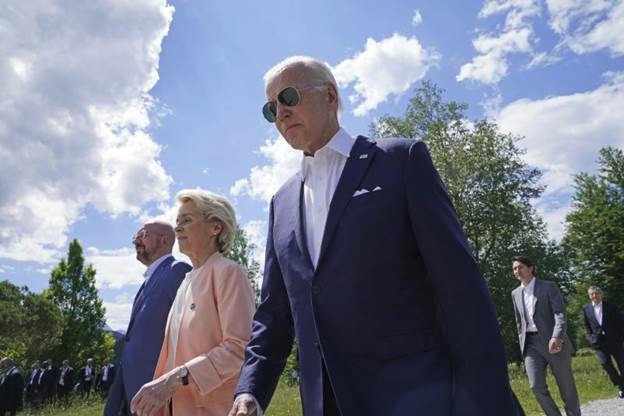 One year ago, Joe Biden strode into his first Group of Seven summit as president and confidently told the closest U.S. allies that "America is Back." Now, many of them are worrying that America is backsliding.
As Biden meets this week in the Bavarian Alps with the heads of G-7 leading democratic economies, he carries with him the domestic baggage of political unrest, shocking mass shootings and the U.S. Supreme Court's decision to end constitutional protections for abortion.
Biden's 2021 summit was meant as a palate cleanser to the "America First" ideology of his predecessor, President Donald Trump.
Embracing multilateralism and global partnerships and restoring faith in America's alliances — especially NATO's mutual self-defense pact — were top on his agenda. British Prime Minister Boris Johnson said of Biden, "We're totally on the same page."
Biden's election was seen by most allies as an American reset, returning to norms honed over decades, with predictability and stability at the fore.
---
Is College Making Young People Less Patriotic? Our Research Says Yes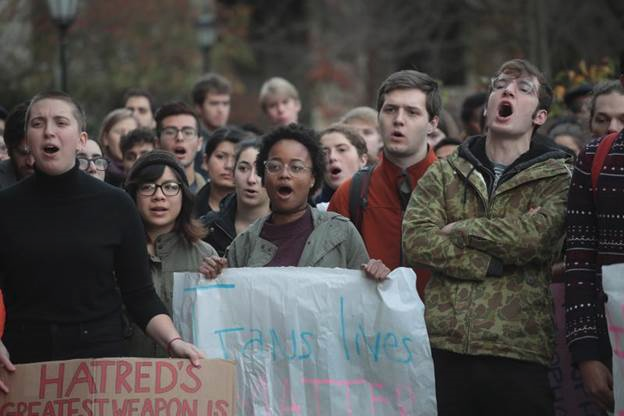 As many of us gather this weekend with family and friends for the July 4 holiday, it's worthwhile reflecting on American pride. Although Americans are divided in many ways, our shared positive national identity will help the United States remain a land of opportunity and a global leader of human progress. A recent report from the Archbridge Institute finds that Americans who are proud of their national identity are dramatically more optimistic about the future of their nation and about making progress on national and global challenges such as racism, poverty, political polarization, and climate change. Other evidence shows that patriotism increases social trust, voluntary association, and personal well-being.
Unfortunately, over the last couple of decades, American national pride has been in decline. Gallup reports that around 90 percent of Americans were very or extremely proud to be American 20 years ago, but that number is around 70 percent today. While the reasons for this decline are many, our new survey suggests that higher education is contributing to the problem.
We recently conducted a national survey of 2,000 students representing 130 colleges and universities across the United States. We found that only 56 percent of American college students are very or somewhat proud to be American. This is very low in comparison to other recent surveys of all U.S. adults that show most Americans across political, gender, racial, and income categories are proud to be American.
Moreover, when asked if their college classes and other academic activities have changed their view of the United States, the majority—57 percent—said yes. And among these students, over 70 percent indicated that college has changed their view of America to be more negative.
When asked how their college education has influenced their attitude about the future of the United States, only 24 percent reported it has made them more optimistic. Nearly half of students—46 percent—reported that college has made them more pessimistic about the future of the United States. The remaining 29 percent were neutral on the subject.
In other words, not only do colleges appear to be making many students feel more negative towards America, but they also appear to be making many students feel more pessimistic about America's future.
---