Biden's Invasion: The news this week was almost unbelievable as we watched coverage of hundreds and even thousands of illegal immigrants invading our country daily. Biden's blatant disregard for our borders and laws is maddening.
Biden's policies will cost communities tens of millions in unfunded liabilities from schools to housing, crime, and jobs. The long-term implication of this lawless, unregulated, unaccounted for illegal immigration will have a long-lasting negative effect on our children and grandchildren.
At least Martha's Vineyard is safe again!
Rank Choice Voting in Presidential Primaries: The folks over at R-Street released a study this last week discussing how Rank Choice Voting is currently used by some state parties and could be of benefit overall as a system that helps chose the strongest candidate by consensus of the delegates or voters involved.
It's not a new idea, but one that is getting a lot more attention. I found the study to be very intriguing. Its worth noting that Governor Glen Youngkin won his nomination for Governor in their Republican nominating process using Rank Choice Voting.
Check out this executive summary and download the pdf (only 9 pages). This might be something worth raising with your state or county party for 2024. The study is also a good summary of how the nominating process works around the country.
https://www.rstreet.org/2022/12/07/ranking-presidents-how-ranked-choice-voting-can-improve-presidential-primaries/
Read more below and follow me on Twitter & GETTR – @sanuzis  
–Saul Anuzis
---
The GOP attempts to put the brakes on Democrat spending before the new Congress, Biden sues Arizona for trying to secure the southern border, and an obscure House committee pushes for Puerto Rico independence!
Links to the articles discussed in the video:
https://thehill.com/policy/finance/3774189-democrats-block-gop-proposal-to-freeze-federal-funding-until-2023/
https://www.axios.com/2022/12/15/biden-arizona-ducey-border-wall
https://www.foxnews.com/politics/dems-push-decolonize-puerto-rico-territory-option-statehood-independence
---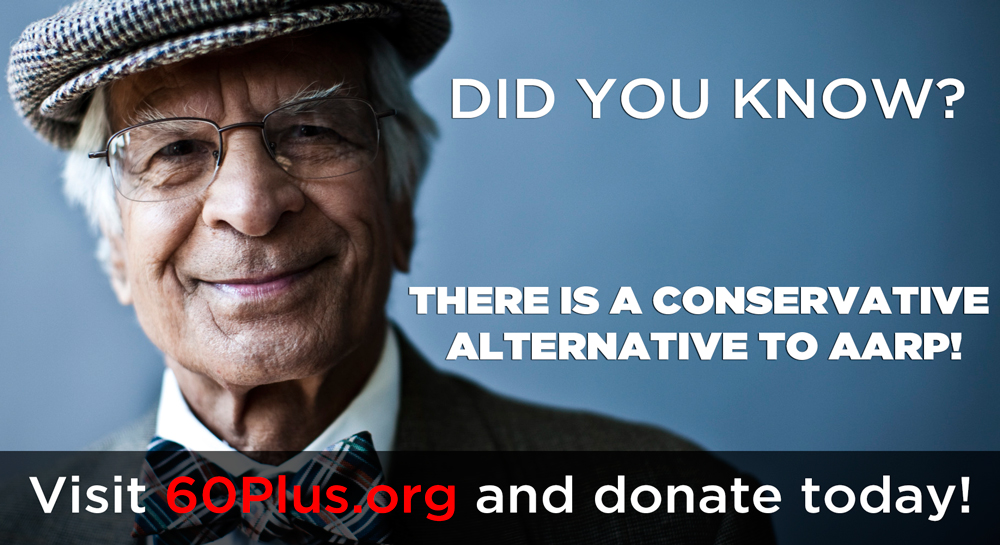 DONATE TO 60 PLUS!
We're fighting every day for seniors and retirees by working to eliminate the death tax, ensure healthcare freedom, and save social security for future generations. With your essential help we will continue the fight. You can even donate using Bitcoin and Ethereum!
Thank you for your help and support of the 60 Plus Association.
Donate Today! Visit https://www.60plus.org/donate
---
US plans for more migrant releases when asylum limits end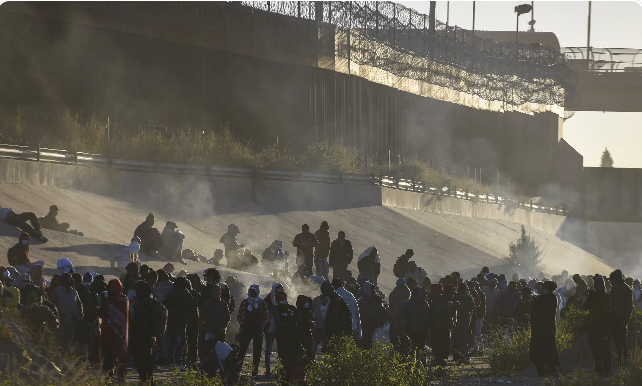 The Department of Homeland Security said more migrants may be released into the United States to pursue immigration cases when Trump-era asylum restrictions end next week, when a Texas congressman says some border officials estimate about 50,000 migrants could be waiting to cross into the U.S.
In one of its most detailed assessments ahead of the major policy shift, the department reported faster processing for migrants in custody on the border, more temporary detention tents, staffing surges and increased criminal prosecutions of smugglers, noting progress on a plan announced in April.
But the seven-page document dated Tuesday included no major structural changes amid unusually large numbers of migrants entering the country. More are expected with the end of Title 42 authority, under which migrants have been denied rights to seek asylum more than 2.5 million times on grounds of preventing spread of COVID-19.
A federal judge in Washington ordered Title 42 to end Dec. 21 but Republican-led states asked an appeals court to keep it in place. The Biden administration has also challenged some aspects of the ruling, though it doesn't oppose letting the rule lapse next week. The legal back-and-forth could go down to the wire.
---
The new House GOP majority will focus on the economy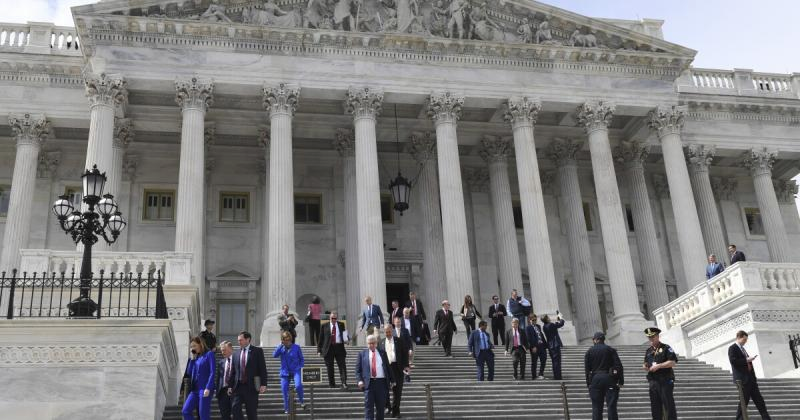 President Joe Biden and Democrats in Congress charged taxpayers $6 trillion for their liberal spending spree over the last two years. From the American Rescue Plan, which failed to rescue our economy, to the Inflation Reduction Act, which failed to reduce inflation, Democrats have fueled price hikes for everyday necessities and taxed families to pay for their wasteful agenda. Ultimately, this tax-and-spend mentality will stymie economic growth, indebt our country to our adversaries, and threaten our prosperity. In our Commitment to America, Republicans will work to balance the federal budget, end wasteful spending, and strengthen our economy.
First, we need to balance our federal budget. Every family lives on a budget, and Congress should operate no differently. Misleading philosophies such as Modern Monetary Theory — which wrongfully presupposes that our debt can grow exponentially with no consequences — embolden geopolitical foes such as China at the expense of our long-term financial security. According to the U.S. Treasury Department, China holds nearly $1 trillion of our debt , which amounts to roughly 14% of all foreign-held U.S. debt.
If we continue to exceed our federal credit limit, U.S. debt will become a far less attractive investment for our allies and a more intriguing investment for our enemies, who could wield our debt against us as a political and financial weapon. At some point, too, even our enemies may refuse to purchase U.S. debt for fear that we would fail to keep our financial promises when bond payments come due. It doesn't take an economist to explain the ugly ramifications of widespread federal default: a spiraling debt crisis and economic catastrophe. This alarming yet increasingly likely scenario underscores the need to balance our budget as quickly as possible.
---
Household incomes up across the U.S., poverty rates falling, except Americans 65 and older
The percentage of U.S. children and all Americans living in poverty declined from 2017 to 2021, according to newly released Census Bureau data.
The bureau's latest American Community Survey, a population trends analysis that informs the spending of $675 billion in federal funds, found the poverty rate for all people decreased from 15.1% in 2012-2016 to 12.6% in 2017-2021.
The national child poverty rate fell from 21.2% to 17.0% over the same period, remaining 4.4 percentage points higher than the overall rate. The family poverty rate dropped from 11% to 8.9%.
"A family and each individual member of that family are considered in poverty if the family's before-tax money income is less than the dollar value of its threshold," Craig Benson, a Census Bureau survey statistician, wrote in a summary of the data. "Poverty status of people not living in families is determined by comparing an individual's income to their poverty threshold."
According to the survey, increases in median household incomes drove the nationwide drop in poverty. The Census Bureau applies the "poverty" label to households in which the sum of all incomes falls below the threshold defined by the Consumer Price Index, adjusted yearly for inflation and economic turbulence.
---
Will Republicans learn from the midterms?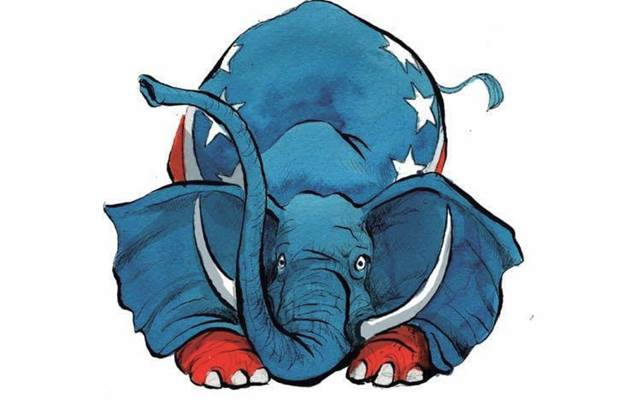 The 2022 midterm elections consumed more than 16.5 billion real American dollars. They featured thousands of candidates and the most expensive Senate race in history, resulting in the election of Democrat John Fetterman from Pennsylvania. Millions of viewers across the country tuned in to watch election-night returns in anticipation of a promised red wave that never came. The 2022 midterms were the political equivalent of the Red Queen's race — a massive effort, all to end up pretty much back where you started.
Post-election recriminations were complicated by how well Republicans actually did. They massively increased their turnout and won the House of Representatives. They saw wide margins of victory by incumbent governors in Florida, Georgia, Ohio and Texas. And the GOP's growth among Hispanics continued to impress. According to Republican consultant Giancarlo Sopo, Democrats' average margin with Hispanics in midterms between 1982 and 2018 was thirty-six points. As recently as 2018, they won Hispanics by forty points. In 2022, Republicans cut that in half, resulting in the Democrats' worst midterm performance ever with Hispanics. And Republican gains among black voters, while small, could prove electorally significant. The problem, as pollster Patrick Ruffini sees it, is that this combined to create a map more resembling a presidential year than a midterm. Republicans failed to peel away enough white 2020 Biden voters to win the kind of suburban congressional seats critical to building a larger majority. And time and again, they were hampered in key states by poor statewide campaigns that hurt their down-ticket opportunities. For example, in Pennsylvania's 17th district, the suburban Pittsburgh seat formerly held by moderate Democrat Conor Lamb, voters chose a progressive professor over a conservative county commissioner.
---
Young voters' support for Democrats slipped in midterms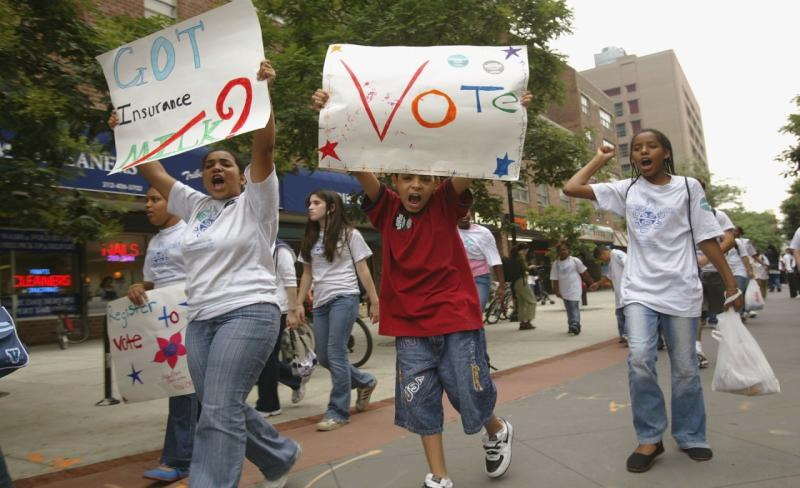 A majority of voters under 30 supported Democratic House candidates in this year's midterms, but the party's support from the age group fell from the 2020 presidential election, according to a new national survey.
The sweeping AP VoteCast survey found that 53 percent of voters under 30 supported Democratic House candidates in the midterm elections, while 41 percent supported Republican candidates.
But in 2020, President Biden garnered the support of 61 percent of those voters compared to former President Trump's 36 percent.
Two years earlier, voters under 30 supported Democrats by an even larger 30-point margin, giving the party a 41-seat gain in the House that year and allowing them to take the majority.
Younger voters have historically served as a key voting group for Democrats, and the falling support marks a potential sign of waning enthusiasm as eyes turn toward the 2024 presidential election.
---
Despite Modest G.O.P. Gains, Democrats Maintain Grasp on Suburbs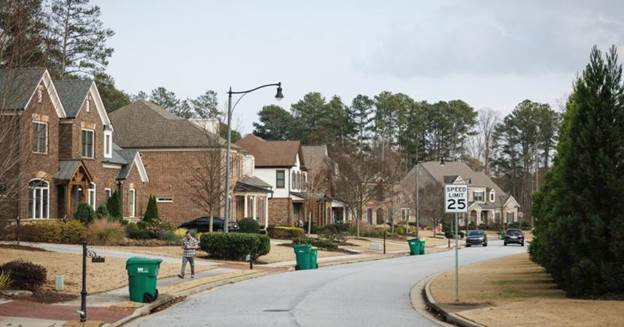 A New York Times analysis of suburbs surrounding 25 of the largest U.S. cities shows that in the midterms, Republican gains did not roll back Democratic Trump-era inroads.
Suburban voters famously rejected Donald J. Trump twice, first by handing Democrats a congressional majority in 2018, then by largely paving the road to the White House for President Biden in 2020.
Heading into this November, a key question was whether suburbanites would remain in the Democratic camp again, or snap back to favor Republicans, delivering the kind of sharp rebuke that presidents have come to expect in their first midterm election.
The answer: Despite a small swing of the pendulum back toward the G.O.P. in 2022, Democrats largely held onto their gains among suburban voters, particularly in battleground states.
A New York Times analysis of voting in the suburban counties surrounding 25 of the largest U.S. cities shows that modest Republican gains did not completely roll back recent Democratic inroads. Republicans, in other words, had a decent 2022 in the suburbs, but it was not as good a year for them as Democrats experienced in 2018 and 2020.
---
Please stop talking about the Hunter Biden laptop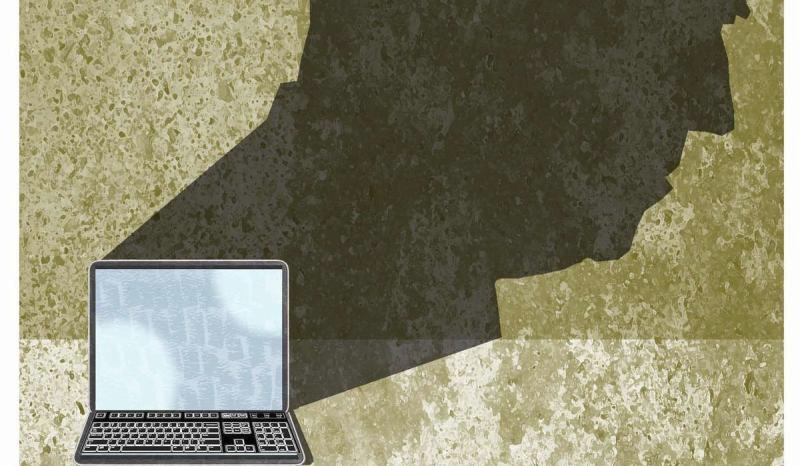 The real story is how the Democrats managed information interfering with the election.
Elon Musk is pulling back the curtain on one of the most salacious political maneuvers in American history that polling suggests could have affected the outcome of the 2020 presidential election.
Leave it to Republicans, however, to never miss an opportunity to play by the left's rules, even when they're attempting to expose the great lengths to which Democrats went to cover up public corruption.
For more than two years now, Americans have heard repeatedly about the Hunter Biden laptop, or alternatively, the laptop from hell.
With the acknowledgment from even some of the most liberal media outlets that the laptop is real and its information reliable, it's time to reframe the story. The liberal press want Republicans to keep using the left's lexicon on a host of topics, including the laptop story.
It's time to stop framing it as the Hunter Biden laptop, or more recently, the Twitter Files.
---
U.S. policy makes Ukraine fight by rules Russia doesn't follow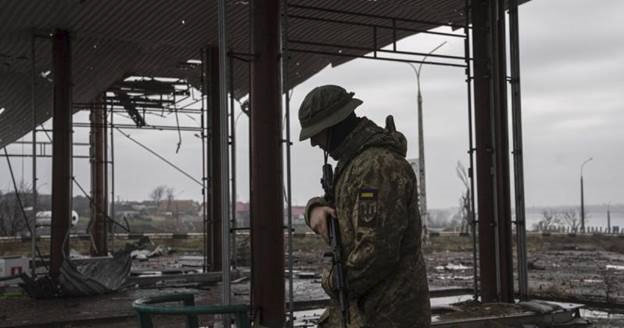 Last week, Ukraine pulled off an audacious military feat: three drone strikes deep inside Russia, one against a target less than 150 miles from Moscow.
The drones attacked bases from which Russia has launched airstrikes against Ukraine's cities, electricity grid and other infrastructure.
It's not clear that they caused major damage; at least two airplanes were struck, and a fuel storage tank was set ablaze. But they revealed a surprising weakness in Russia's air defenses…
…"We have neither encouraged nor enabled the Ukrainians to strike inside of Russia," Secretary of State Antony J. Blinken told reporters.
Other officials added that the United States has not supplied Ukraine with weapons that could reach as far as the drones flew.
It's time to change that.
The administration's dour reaction to the drone attacks was in keeping with the self-imposed limits Biden's team has observed as it has pumped billions of dollars in weaponry and economic aid to the embattled Kyiv government: No U.S. or other NATO troops in Ukraine; no NATO aircraft in Ukrainian airspace; no NATO-supplied weapons that can strike deep inside Russia.
The goal is to avoid crossing any boundaries Russian President Vladimir Putin might consider "red lines" — actions that might provoke him to retaliate against the West.
"We're trying to avoid World War III," President Biden has said repeatedly.
---
HUMAN FREEDOM INDEX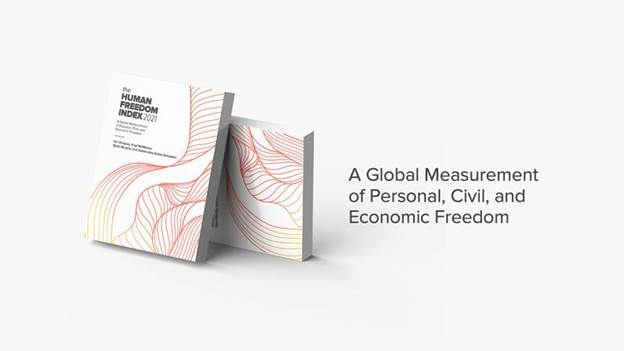 The Human Freedom Index presents the state of human freedom in the world based on a broad measure that encompasses personal, civil, and economic freedom. Human freedom is a social concept that recognizes the dignity of individuals and is defined here as negative liberty or the absence of coercive constraint. Because freedom is inherently valuable and plays a role in human progress, it is worth measuring carefully. The Human Freedom Index is a resource that can help to more objectively observe relationships between freedom and other social and economic phenomena, as well as the ways in which the various dimensions of freedom interact with one another.
The HFI is the most comprehensive freedom index so far created for a globally meaningful set of countries and jurisdictions representing 98.1 percent of the world's population. The HFI covers 165 jurisdictions for 2019, the most recent year for which sufficient data are available. The index ranks jurisdictions beginning in 2008, the earliest year for which a robust enough index could be produced.
On a scale of 0 to 10, where 10 represents more freedom, the average human freedom rating for 165 jurisdictions in 2019 was 7.12. Among the 162 jurisdictions for which we have data for 2018 and 2019, the overall level of freedom (weighing all jurisdictions equally) remained unchanged, with 82 jurisdictions decreasing their ratings and 67 improving
---
Twitter files: CNN, ABC, NBC, CBS blackout coverage of Elon Musk leaks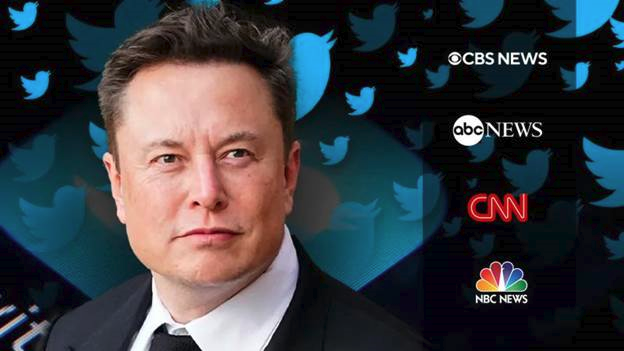 CBS News, ABC News and NBC News did not cover the story, while CNN only mentioned it once.
Liberal media networks NBC News, CBS News, ABC News, and CNN largely ignored the "Twitter files" on the air, with only MSNBC offering substantial coverage of the company's internal documents in the past several days.
While the files have dominated discussion on Twitter, a site known to facilitate discussions among members of the press, on-air coverage of the internal documents has been almost nonexistent.
Since Friday, networks have only discussed the Twitter files for a combined total of 14 minutes. The term "Twitter files" has only been used six times on-air over the same span of time, according to a review of Grabien transcripts by Fox News Digital.
CNN covered the story for three minutes, only on Dec. 9, while MSNBC spent two minutes on the story the same day, as well as five minutes on Dec. 11 and four minutes on Dec. 12.
CBS News, ABC News, and NBC News have not discussed the Twitter files in the last week.
---
Russia's Quiet Riot – Learning to Outlast Putin's Autocracy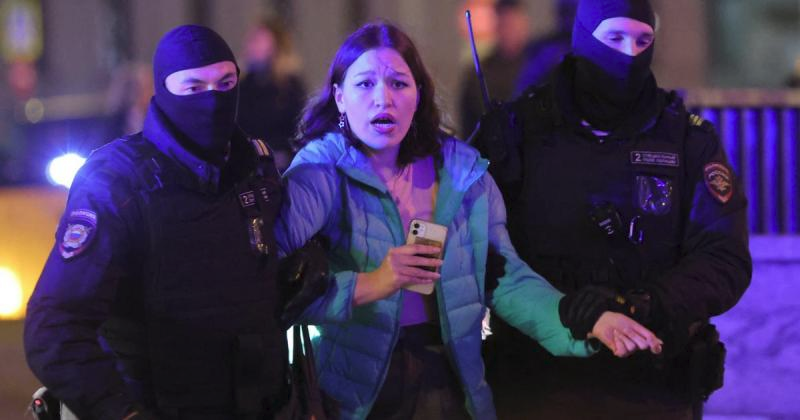 In late September, shortly after Russian President Vladimir Putin announced his "partial mobilization," the Russian bards Aleksei Ivashchenko and Georgy Vasilyev performed in Moscow. Ivashchenko and Vasilyev, who belong to the once popular late-Soviet genre of singing with guitar, enjoyed a wide following in Moscow's university community of the 1970s and 1980s, and the 1,500 spectators included many who came of age during those years. On YouTube, the concert received an enthusiastic response, garnering more than a million views. For Moscow's liberal elite, the event amounted to a kind of antiwar rally: in the songs and remarks of the bards there were many direct hints at the current situation. It was a rare moment when pent-up feelings against the regime could be expressed, if only obliquely.
Nine months into a war that shows little sign of ending, the mood among the pro-Western intelligentsia in Russia is dark. Russians with liberal views—those who have stayed in the country or found it impossible to leave—feel trapped. They face increasingly brutal repression at home but also the sense that they, along with the regime, are being shunned by the West. They have become double outcasts. Of course, things were even more hopeless in the Soviet Union, but comparisons with life back then have become inevitable, just as some of the rhymes of history are inevitable.
After all, it was in 1976 that two Leningrad artists, Oleg Volkov and Yuli Rybakov, famously painted a protest slogan on the walls of the Peter and Paul Fortress in St. Petersburg, once the main political prison of tsarist Russia: "You may crucify freedom, but the human soul knows no shackles," they wrote. The words were quickly sandblasted away by the authorities, and the artists were ultimately sentenced to long prison terms. (Rybakov later became a well-known human rights activist and even a member of the post-Soviet parliament.)
Among the minor officials assigned to investigate the incident, as it turns out, was a very young KGB lieutenant named Vladimir Putin. His work on the case was not very important, but—given the current circumstances—it is highly symbolic. In fact, exactly 40 years later, in 2016, the same inscription appeared again on a St. Petersburg waterfront, thus connecting Putin's rise from humble KGB officer to full autocrat, from a functionary in a local struggle against dissent to a dictator enforcing the total suppression of rights and freedoms throughout the country and even beyond its borders. After a brief period of democracy, freedom in Russia has once again been crucified.
MAKE RUSSIA BACKWARD AGAIN
There is nothing new about Putin. The Russian philosopher Vladimir Kantor, for example, has described a model of government that "tries to turn the whole people into an army and the country into a barracks," all the while relying on "an extreme nationalist ideology of 'orthodoxy-autocracy-nationality.'" Kantor was referring to the era of Tsar Nicholas I, who ruled from 1825 to 1855. In fact, Nicholas's reign is but one example of many counterreform eras in Russian history, periods that have been accompanied, as the Russian economist Alexander Auzan has observed, by "economic and technological backwardness and rising costs of suppressing the discontented." In past such eras, the pendulum would eventually swing the other way, and a period of reform would follow, but the cycle could never be broken: soon, the country was back to the same thing again.
---
Trump? Biden? New Hampshire? No Guarantees for 2024 Campaign Season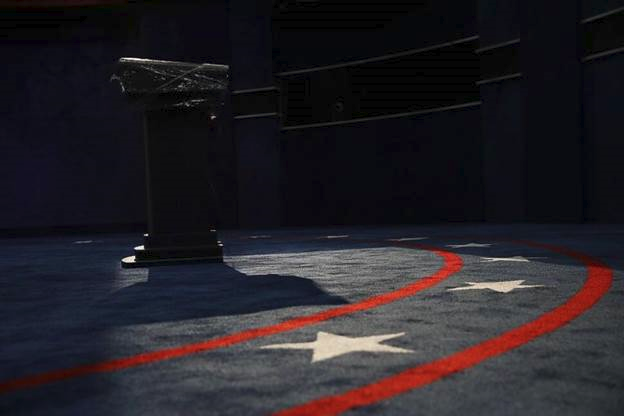 Once, it seemed as if presidential campaigns would start earlier and earlier – and always in New Hampshire. But with Trump and Biden's status this year as unsettled as that of the Granite State, neither is guaranteed anymore.
It was a cold winter day when then-Sen. Barack Obama trudged up to New Hampshire to gauge interest in a presidential run. It was also stunningly early in the campaign season: Dec. 10, 2006, nearly two years before the general election for president and 13 months before the famously first-in-the-nation primary in New Hampshire, a state Obama had never set foot in before appearing at packed events in Manchester and Portsmouth.
His rival for the nomination, Hillary Clinton, made her maiden campaign trip to New Hampshire in February 2007 – eight months ahead of the schedule her husband, Bill Clinton, had when he sought the 1992 nomination for president.
It seemed, in the lead-up to the 2008 election, that something new and something old would be the pattern going forward: Presidential campaigns would start earlier and earlier, with the field sometimes narrowing even before a single nominating contest was held, and New Hampshire would always be Destination One for presidential hopefuls.
With the 2024 campaign season looming, neither of those things is true – or at least guaranteed – anymore. The Democratic National Committee is moving to strip both New Hampshire and Iowa of their longtime status as first in line to hold nominating contests. The candidate fields are still very much unformed, as presidential hopefuls in both parties await developments that could affect both President Joe Biden and former President Donald Trump…
…Further, the ability to raise a lot of money quickly – either online or through superPACs – makes it less necessary that candidates win early contests, notes Saul Anuzis, a former chairman of the Michigan Republican Party who is now a principal at Coast to Coast Strategies. Florida Gov. Ron DeSantis has been waiting to announce if he'll challenge Trump for the GOP nomination, but when he does, "he'll have $100 million in superPAC money" to jump-start his campaign, Anuzis says…
…But if Michigan indeed moves up its Democratic primary, that means candidates will need to address issues important to Michiganders, such as developing the post-industrial economy.
"Every once in a while, we run into a situation where we put partisan politics aside. This is one of those examples," says Anuzis, "Everybody was looking at it as a benefit for the state."