Right now, Congress has NO legal obligation to pay back what you and I have paid into Social Security – a mandatory deduction from our hard-earned paychecks we've paid for years and years. Back in 1960 the Supreme Court ruled (Flemming v. Nestor) the government has NO LEGAL, CONTRACTUAL OBLIGATION to pay back our hard-earned Social Security contributions!  
The NEW "Social Security Guarantee Act" (H.R. 521) would prohibit politicians in Washington from reducing the amount of your Social Security check. Right now, they can legally do it.
Read the full Act Here – H.R.521 – Social Security Guarantee Act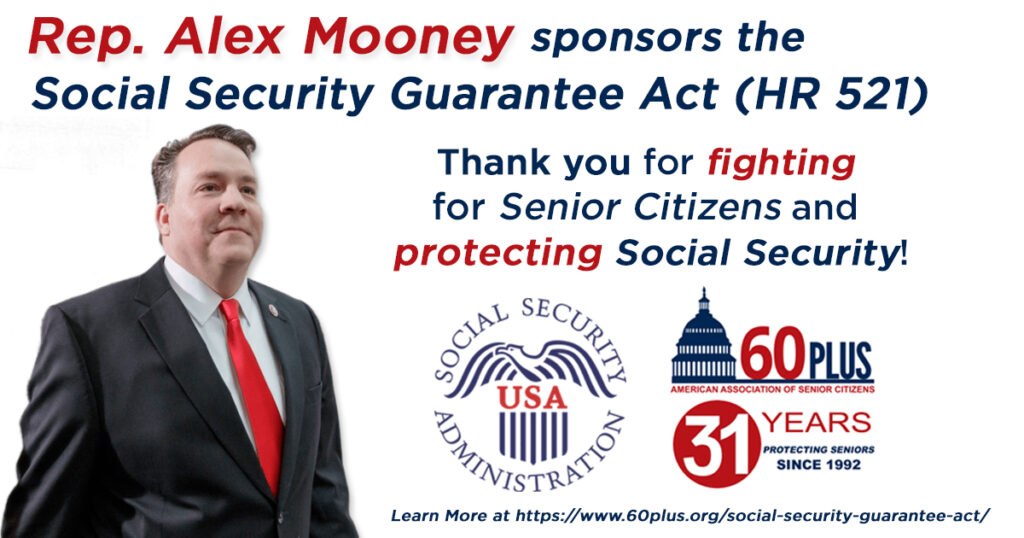 Social Security Guarantee Act
Congressman Alex X. Mooney introduced the Social Security Guarantee Act. This legislation guarantees the right of individuals to receive social security benefits in full. The legislation also requires accurate annual cost-of-living adjustments. Individuals determined to be eligible for Social Security will receive a guaranteed benefit certificate that the government legally owes them the money.
"I have heard from many West Virginia senior citizens concerned about the payment of Social Security benefits given the current debt crisis. While Congress works on a long-term solution, we owe a legal guarantee to those who have paid into the system and been promised Social Security that their benefits will be fully paid," said Congressman Alex X. Mooney.
The 60 Plus Association supports the legislation. "Senior Citizens who have funded these programs all of their adult lives should have this safety net available to them in their golden years. We applaud Congressman Alex Mooney for introducing the Social Security Guarantee Act," said Saul Anuzis, President of 60 Plus.