Democrat Billionaires Fund State Elections – Where are the Republican/Conservatives?: Please read the Washington Post article below. Liberals are very good at motivating their base of donors to fund Democrat's campaigns. Where are our Republican and Conservative donors?!?
Democrats have MORE liberal billionaires willing to write HUGE checks to fund all their efforts to take over state and local governments. Their ultimate goal is the presidency and Congress. And then their Biden's secret plan…what are they hiding…read that article as well.
These guys are VERY good…willing to commit to long term programs.
I don't see anything even close to similar on the right, willing to stand up and protect our freedoms and constitutional values…its worth having the discussion!
To me, it's the Democrat's "Shady Politics 101"…voters beware!
Price of Gas – Biden's Hypocrisy: President Biden's and the Democrat's policies are driving up the price of gas at the pump virtually daily. They claim they will do all they can to bring down prices, but at the same time they "preach" to us that if we just bought into the green new deal and switch to electric cars, all would be better.
90% of all the electricity produced to power the electric cars comes from coal. How ironic and hypocritical is that.
The Democrats are using and pushing higher gas prices to "encourage" Americans to use less gas and/or switch to more expensive electric cars. Americans can't afford the Democrat's "encouragement" while subsidizing their donors' investments in the green new deal.
All we have to do is allow the United States to flood the U.S. market with domestically produced oil & gas and the prices will drop overnight. Once production is up, we will also have plenty of excess oil & gas to become an exporter. That will lower prices worldwide.
North America has hundreds if not thousands of years' worth of energy in our own backyard that doesn't require any military interventions around the world. We need an "all of the above" strategy that allows the average American to beat Biden's inflation by bringing the cost of oil and gas down.
Not to mention, American oil & gas is cleaner both in composition and to produce…therefore "greener."
All his Putin rhetoric is nothing more than a distraction/distortion to deflect blame.
Biden's Open Borders Policy is Costing Us: The word is out. The Biden Administration is letting virtually everyone who comes to our southern borders in…and American taxpayers are paying for them.
His motivation…maybe they will eventually become voters and vote for the Democrats.
In the meantime, taxpayer dollars are stretched to pay for school, Medicare/Medicaid, housing, transportation…illegal immigrants get a better deal than American veterans.
This is a manmade crisis…and President Joe Biden is that man. And worse, the Democrats in Congress support him.
Fair Trial – Here is My Point: Let's assume you were accused of a crime and put on trial by the government. However, during the trial you were NOT allowed to have a defense attorney, you were NOT allowed to cross examine any of the witnesses, and you were NOT allowed to present any witness in your defense?!?
Would anyone think this is a fair trial???
I am NOT defending President Trump or anyone else who acted irresponsibly or even possibly illegally.
My objection to the January 6th "show trial" is just that. There are some good and important points that need to be brought up. There are some folks who acted potentially illegally while others valiantly and honorably. But there are a lot of unanswered questions…and a fair and transparent process would look at ALL sides.
What separates America from so many others is that our system is based on the rule of law, the presumption of innocence, and justice being "blind" or fair.
This process is far from fair. It's designed for political benefit for the Democrats and should not be legitimatized. It's as dangerous from a process perspective as what some on January 6th attempted to do in overturning the election of the president.
Process, fairness, and transparency matter.
Read more below and follow me on Twitter – @sanuzis  
–Saul Anuzis
Click Here for Past Commentary from Saul
---
60 Plus Weekly Video Rewind
Former Secretary of Education Betsy DeVos warns against changing Title IX to include gender identity, Nancy Pelosi throws cold water on a gas tax holiday, and Secretary of Energy Jennifer Granholm hints that Biden may use the Defense Production Act to lower gas prices!
Links to the articles discussed in the video:
https://www.foxnews.com/media/former-education-sec-betsy-devos-sounds-off-biden-title-ix-changes
https://thehill.com/homenews/house/3533375-pelosi-declines-to-endorse-gas-tax-holiday/
https://www.foxbusiness.com/energy/granholm-president-defense-production-gas-supply
---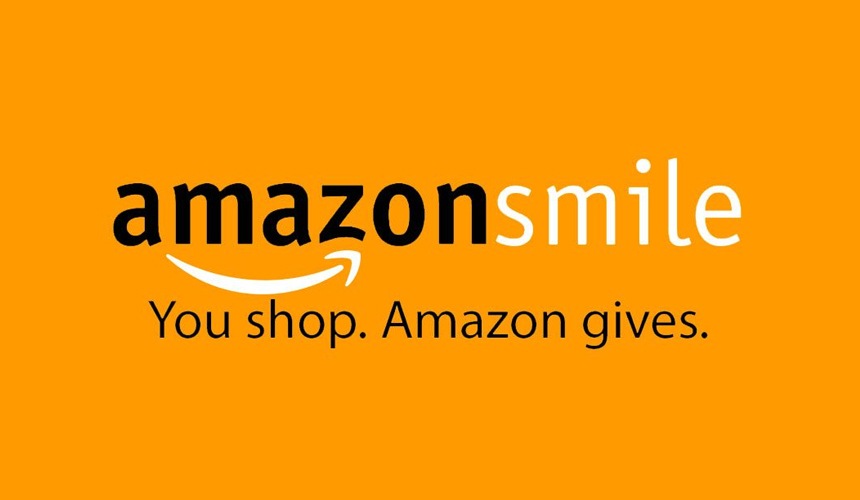 Amazon will help US if you say yes!
At NO cost to you, you can help the 60 Plus Foundation in its efforts to support conservative policies to protect senior citizens, get rid of the death tax and defend social security and Medicare using sound fiscal policies.
Sign up…and Amazon will donate 0.5% of what you spend to the Foundation! Please help us out by signing up here…at NO cost to you!
Sign up Today! Visit https://www.60plus.org/amazon-smile-program/
---
Democrat Billionaires Plan – Where are the Republicans/Conservatives?!?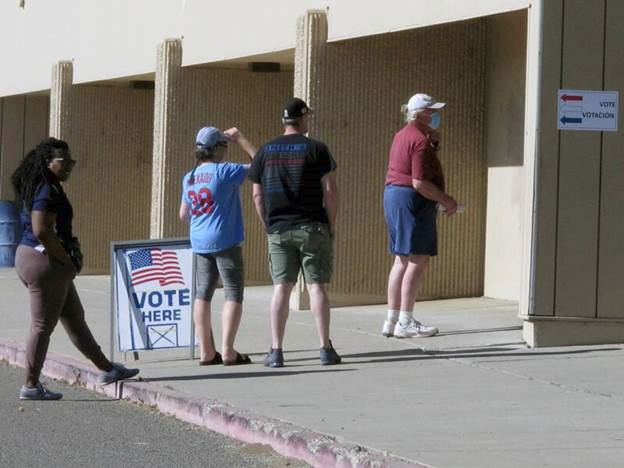 Liberal groups devote millions to blocking GOP election deniers
The strategy has diverted some of the focus away from federal races toward governor and secretary of state races, election-administrator contests and measures aimed at protecting ballot access and tabulation.
LinkedIn founder Reid Hoffman, one of the nation's top political donors, gathered more than a dozen billionaires or their representatives over Zoom Friday to sound an alarm about the coming elections.
"MAGA leaders intend to use 2022 midterm wins to install Trump in 2024 regardless of the vote," read a slide of the PowerPoint Hoffman presented to the group, which was obtained by The Washington Post.
He was pitching some of the nation's wealthiest people on a doomsday idea that has become a growing obsession among the liberal donor community. Another slide, titled "How MAGA midterms can install Trump," laid out a step-by-step hypothetical scenario: Republicans win statewide offices in key battleground states in 2022 and then change state laws in 2023 to give legislatures control over presidential electors. After the next presidential election, they declare votes from urban centers "tainted" and overrule the popular vote by sending their own slate of electors to Washington.
The goal of the presentation — described by someone familiar with the group who spoke on the condition of anonymity to discuss private conversations — was to raise tens of millions of dollars for groups that the PowerPoint described as being able to increase Democratic turnout, persuade swing voters to vote Democratic and "dissuade" Republican voters from going to the polls.
Pouring liberal money into the midterms to elect Democrats is hardly novel. What's different about this new strategy is that a large portion of the 2022 efforts are actually aimed at 2024 — attempting to block Republican 2020 election deniers from gaining power and potentially upending valid results in a presidential election year.
---
Roe v. Wade overturned: Separating fact from fiction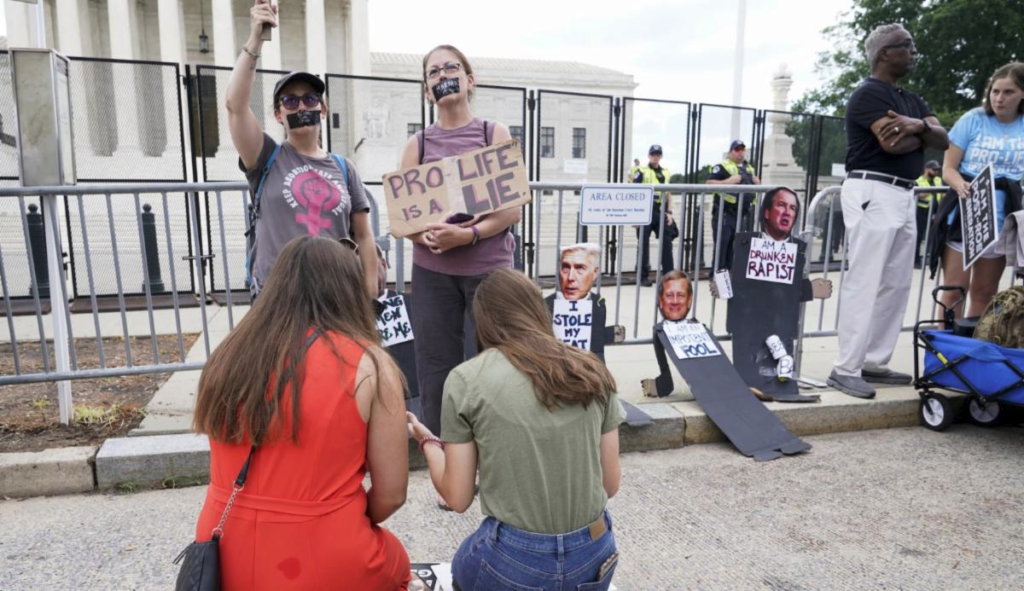 The Supreme Court struck down the 50-year-old Roe v. Wade decision that guaranteed a right to abortion nationwide on Friday, sending decisions for regulating abortions down to the state level.
The following is a breakdown of what the monumental decision means and addresses some misconceptions.
---
Supreme Court's Roe reversal reshapes Democrats' battle to keep Congress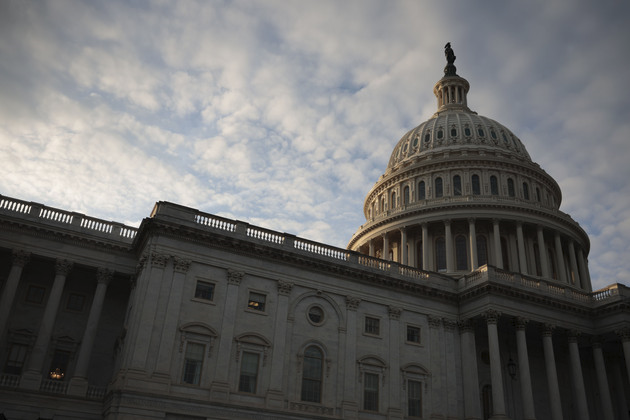 This fall's midterm landscape shook from a tectonic realignment on Friday after the Supreme Court struck down Roe v. Wade's abortion-rights precedent, giving Democrats a third-rail social issue as they fight to keep their slim majorities.
Senate Democrats clamored to connect the decision to their narrow hold on the chamber, which allows them to confirm new Supreme Court justices with a simple majority vote. Control of future judicial confirmations now may be the biggest prize at stake in the November elections.
---
Yes, Biden Is Hiding His Plan To Rig The 2022 Midterm Elections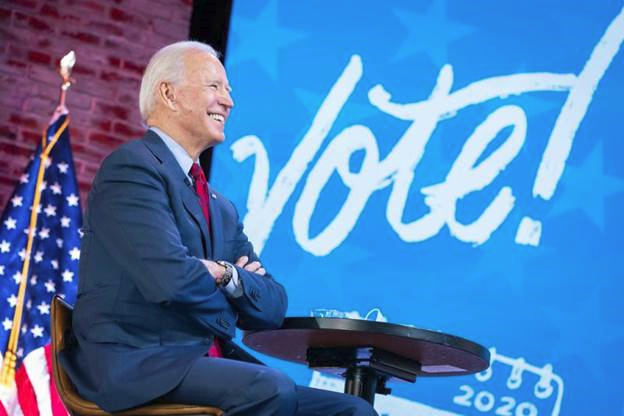 The White House is refusing to share details about its coordinated efforts to engage in a federal takeover of election administration.
President Biden really does not want the public to know about his federal takeover of election administration. Dozens of members of Congress have repeatedly asked for details, to no avail. Good government groups, members of the media, and private citizens have filed requests under the Freedom of Information Act. Not a single one has been responded to. All signs indicate a concerted effort to keep the public in the dark until at least after the November midterm elections. The lack of transparency and responsiveness is so bad that the Department of Justice and some of its agencies have been repeatedly sued for the information.
When President Biden ordered all 600 federal agencies to "expand citizens' opportunities to register to vote and to obtain information about, and participate in, the electoral process" on March 7, 2021, Republican politicians, Constitutional scholars, and election integrity specialists began to worry exactly what was up his sleeve.
They had good reason. The 2020 election had suffered from widespread and coordinated efforts by Democrat activists and donors to run "Get Out The Vote" operations from inside state and local government election offices, predominantly in the Democrat-leaning areas of swing states. Independent researchers have shown the effect of this takeover of government election offices was extremely partisan and favored Democrats overwhelmingly.
At the time the order was issued, Democrats were also hoping to pass H.R. 1, a continuation of the effort to destabilize elections throughout the country via a federalized takeover of state election administrations.
---
2 Out Of 3 Americans Say They're Blowing Through Savings to Cope With Inflation—Do This Instead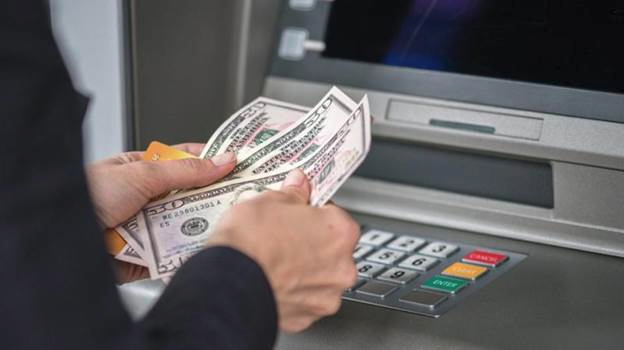 Americans piled up an estimated $2.5 trillion in extra savings during the pandemic. But now, that money is dwindling as people use their cash reserves to deal with the worst inflation in over 40 years. According to a new Forbes Advisor survey, a full two-thirds of Americans say they're raiding their savings as prices for goods and services spike.
A fresh government inflation reading shows consumer prices in May were up 8.6% from a year earlier—the biggest annual increase since 1981. Inflation is hurting workers, with wages not able to keep pace. From May 2021 to May 2022, real wages adjusted for inflation dropped 3.0%, widening the gap between earnings and costs of goods and services.
Add to that rising consumer debt—$266 billion more just from the fourth quarter of 2021 to the first quarter of 2022—and it's probably no surprise that savings are shrinking.
The survey reveals that 67% of Americans say they've been blowing through savings to deal with higher prices:
8% have completely drained their savings
23% have depleted a substantial amount of the money they'd saved
36% have spent a small amount from their savings
People of all ages report dipping into their savings because of inflation—but older respondents are more likely to have left their funds intact even amid higher prices. Two-thirds (67%) of those 77 or older say they haven't been touching their savings, the highest of any group.
---
Oil, gas Industry experts push back on Biden claims of booming industry amid record pump prices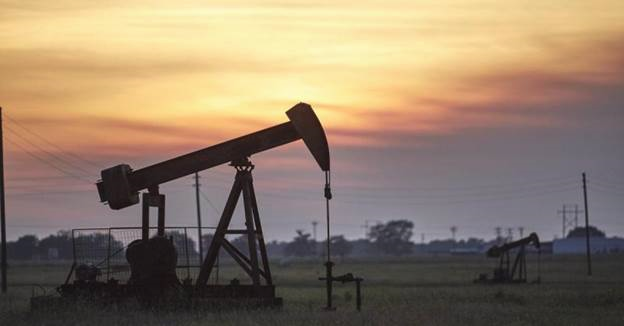 Biden claims U.S. oil drilling is "on track to set a new record for production next year"
U.S. oil and gas industry leaders are challenging President Biden's argument Wednesday that his lack of support for the county's fossil fuel industry has led to record-high gas prices.
"I know my Republican friends claim we're not producing enough oil and that I'm limiting oil production. Quite frankly, that's nonsense," Biden said Wednesday at the White House in officially announcing he'll ask Congress to suspend the federal gas tax for three months to reduce the cost per of gasoline, as a temporary relief measure.
He also claimed that U.S. oil production so far this month is 12 million barrels a day, compared to 11 million per day during all four years of the Trump administration.
"Thank God that Donald Trump had the foresight to get leases and permits approved or else Biden would have nothing to take credit for," U.S. Oil and Gas Association President Tim Stewart told Just The News.
To be sure, industry leaders have for months argued that Biden triggered soaring gas prices on Day One on his administration when he cancelled the Keystone XL crude oil pipeline. He then argued as gas prices climbed to record highs this spring that Russia having invading Ukraine in mid February was largely to blame, disrupting energy output and distribution worldwide.
---
The truth about who really dismantled our immigration system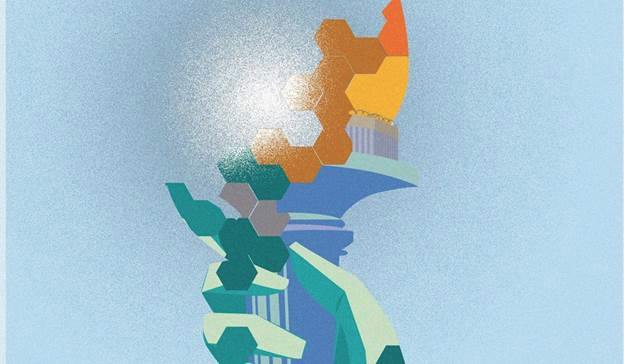 Mayorkas has said Trump partly caused our border crisis. That's a lie.
During his time as secretary of Homeland Security, Alejandro Mayorkas has often said that our current immigration crisis has been partly caused by what he claims was a broken and dismantled immigration system inherited from the Trump administration.
As a veteran of more than 30 years in immigration enforcement, I can tell you that statement is a lie. Just like the lies this administration tells about how the border is secure, the border is closed, the border is under operational control, the Border Patrol's mounted agents whipped Haitians, and many more.
Here are the facts. It is the Biden administration that dismantled the most secure border we ever had, and the data proves it. Illegal immigration was down 83% to 90% after President Donald Trump and his administration, including myself, made the necessary policy decisions to address the loopholes that Congress has failed to address.
Within his first few weeks in office, President Biden signed over 90 executive orders that "dismantled" almost every policy created under Mr. Trump. He dismantled the Migrant Protection Protocol, better known as the Remain in Mexico program, which allowed migrants to still claim asylum, but to do it from Mexico until their hearing rather than be released into the U.S. and rarely show up in court for their immigration hearings.
Even when they do show up in court, the data from the Executive Office of Immigration Review — our federal immigration courts — show nearly 9 out of 10 Central Americans that claim asylum never get relief from federal courts because they either do not qualify or do not show up in court. The vast majority who are ordered to be removed never leave, and just live here illegally hoping for the next amnesty bill to be passed.
---
The media bubble is real: Study shows massive disconnect between journalists, public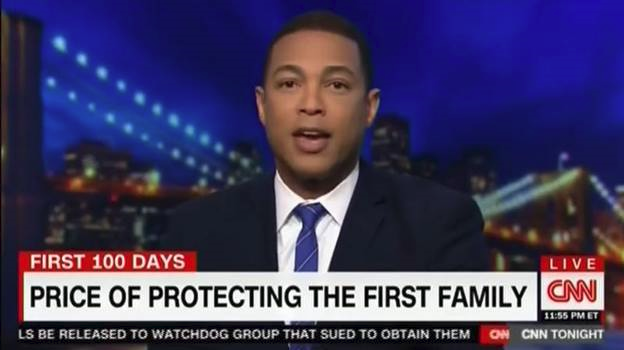 To say there's a disconnect between many journalists and the public they serve is a gross understatement, according to a new in-depth survey by the nonpartisan Pew Research Center.
Per Pew, 65 percent of the nearly 12,000 journalists surveyed say the media do a solid job of "covering the most important stories of the day" and reporting news accurately. But a solid majority of the American public at large has the opposite view, with just 35 percent feeling the same way. That's a 30-point perception gap.
When asked if journalists perform well when "serving as a watchdog over elected leaders," 52 percent of journalists agreed. But the number dropped precipitously again when the general public was asked, with less than 3 in 10 agreeing with the assessment.
When asked if journalists manage and correct misinformation consistently, 43 percent of those in the industry said yes, while just 25 percent of the general public agreed.
Almost half (46 percent) of journalists said they felt connected to their readers and viewers, while just one-quarter of the public says they feel connected to the media outlets from which they get their news.
So why the disconnect? Perhaps it's like the old saying about the key to good real estate: Location, location location. Most of the national media are located in two places: New York City and Washington, D.C.
In the 2020 election, just 9 percent of Manhattan voters voted for Donald Trump. In D.C., the Trump support was just 5.4 percent, underscoring that those who live in or near these cities exist in overwhelmingly liberal silos. It's only human nature that a journalist's perception of issues will generally conform to the places and people with whom he works and lives.
---
CNN, NBC, MSNBC journalists say Republicans can't be covered equally with Democrats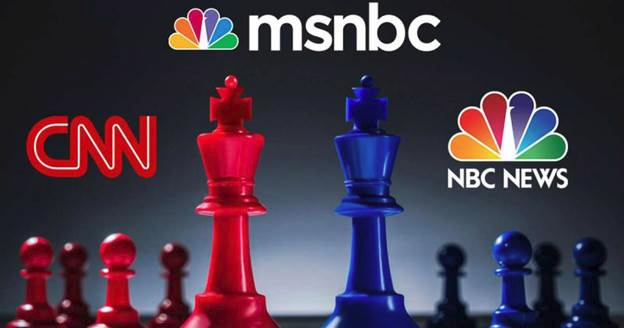 Figures on liberal media networks CNN, NBC and MSNBC have pushed the narrative that Republicans do not deserve equal coverage alongside their Democratic counterparts, often claiming Republicans stand for anti-Democratic values and are more likely to push falsehoods.
On MSNBC's "The ReidOut" Monday night, Joy Reid and her guest, left-wing political analyst Mathew Dowd, suggested the media were too neutral in their reporting on the Republican Party, and thus needed to ramp up the hostility. She added that both sides were "not the same," and also urged fellow reporters to "tell voters" the GOP was a "threat" to freedom.
She wondered to Dowd how the media could "get out" of this "'both sides' trajectory," to which he advised the media to act as though they were living in a society that wasn't free and treat Republicans accordingly.
Just a week earlier, CNN primetime host Don Lemon also shot down the idea Republicans and Democrats should be afforded equal footing in media coverage. Lemon called the freedom to "state [his] truth" and stand up for his viewpoints "imperative," noting that journalists no longer live in a "Walter Cronkite society."
"We cannot have a false sense of equivalency about what is happening when it comes to politics in our country. There is one party, right now, that is not operating in fact, that has been misleading the American people, and that is the Republican Party, sadly, which I used to be a member of… years ago," Lemon said.
Fellow CNN host Brian Stelter also questioned whether Republicans should be given the same coverage as Democrats in December, during a discussion with Los Angeles Times columnist Jackie Calmes on her piece condeming "both-siderism."
---
No, You Can't Replace Fathers With Government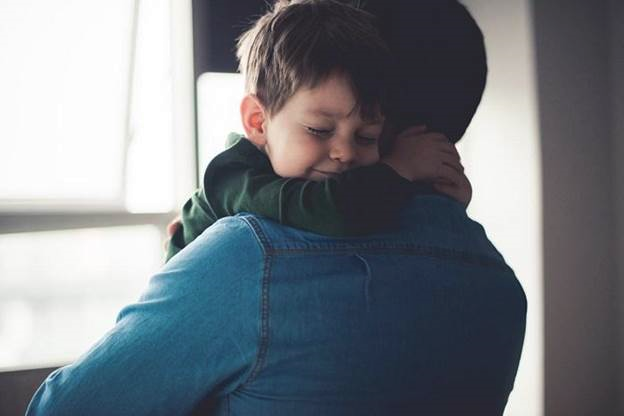 It's been said that America can always be counted on to do the right thing, once we have exhausted all the other alternatives. As of Father's Day 2022, America has spent about 60 years exhausting the alternatives to fatherhood — and the collateral damage is all around us.
Broken families. Gutted communities. Betrayed women. Terrified children. Busy morgues. And overflowing prisons.
The evidence is so overwhelming that it's not really controversial anymore. Children who grow up without their fathers — especially in communities where fatherlessness has become the norm —carry the heaviest social, economic and psychological cross social science can measure. The mountain of data is nothing short of Himalayan.
Children raised in single-parent homes constitute:
63% of teen suicides;
90% of runaways and homeless children;
85% of behavior disorder patients;
71% of high school dropouts;
75% of teenagers in substance abuse rehab centers;
85% of young prison inmates.
This is what we have to show for the trillions of dollars spent and the decades of research conducted. If there was a way for a social worker or a bureaucracy or a government check to fill the Dad-shaped hole in America's broken families, we would have found it by now.
---
Pence says Democrats using Jan 6. to 'distract attention'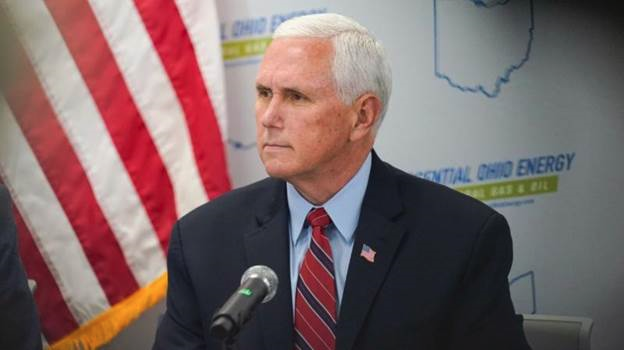 Former Vice President Mike Pence said Monday that he won't let Democrats use the Jan. 6, 2021, attack at the Capitol to "distract attention" from their "failed agenda," in some of his first comments since the committee investigating the Capitol riot held a hearing centered on his role leading up to and on that day.
In an interview with Fox News on Monday, Pence called Jan. 6 a "tragic day," but also said that he and former President Trump "parted very amicably" on the last day of their administration despite what the committee laid out was a weeks-long campaign by Trump to pressure his vice president to overturn the 2020 election results.
Aides to both men rejected the legal theory being touted to do so, which led to the violence on Jan. 6 in which Pence had to be ushered to safety while overseeing the certification of Electoral College votes in his role as vice president at the time.
"We parted very amicably on Jan. 20," Pence told Fox News. "I don't know if the president and I will ever see eye to eye on my duties on Jan. 6, but, in the aftermath of that tragic day, we sat down, and we talked through it. And then we rolled our sleeves up and finished the final weeks of our administration working together.
"And we parted very amicably. And we spoke in the months that followed us leaving office — we spoke with some regularity," Pence said. "And now, I think we've kind of gone our separate ways over the last year, but I'll always be proud of the record we created."
---
Russia Has a Plan for Ukraine. It Looks Like Chechnya.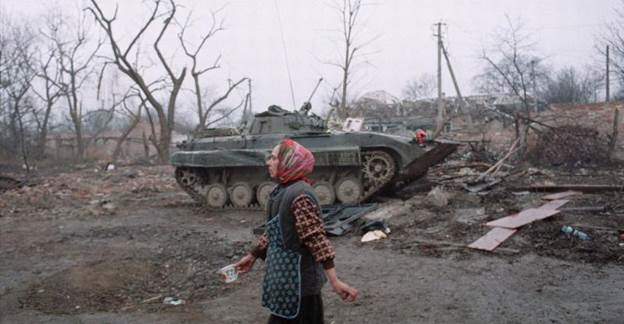 Putin's template is simple: flatten cities, install satraps, rule by fear.
he constant boom of artillery in the near distance is the defining feature of life in the Donbas today. As Russia presses its offensive to take the eastern part of Ukraine, the signs of conflict are everywhere: buildings smashed to ruins by cruise missiles, Ukrainian tanks and howitzers on the highway headed east. The Donbas region, encompassed by a front stretching hundreds of miles and currently the scene of the most extensive fighting in Europe since World War II, is in total war mode.
The Russian military machine, which has overwhelming superiority in artillery, is grinding forward slowly but surely, conquering an additional kilometer or two a day at immense cost to the defenders. Exhausted Ukrainian soldiers speak of weeks of fighting under relentless bombardment, heavily outgunned by an opposing force that has recovered from its initial blunders and is now fighting the sort of war it was designed for. Under Vladimir Putin's leadership, Moscow is pushing on eastern Ukraine a fate much like the one it imposed on another unruly former vassal at the start of Putin's reign: Chechnya.
The Russian plan for Ukraine is grimly apparent from that earlier template. In a years-long conflict, which began more than two decades ago, Putin destroyed a sovereign state and subjugated its people, creating in its place a land of ruin, chaos, and fear. For that same plan to proceed in Ukraine, a country with a population 40 times the size of Chechnya's, would be exponentially more ruinous.
The plan unfolds in a few set phases. The first is pacification. This comes quickly where it can, and slowly, via obliteration, where it cannot. In Chechnya, the rapid part took place in most of the outlying areas, the towns and villages that dot the once-picturesque Terek River plain, where Russian forces rolled through in late 1999. In the case of Ukraine, the south was easily overrun; the open terrain and insufficient defenses offered little resistance to the Russian advance that swept through cities such as Melitopol and Kherson in the offensive's first week.
---
What Hundreds of Photos of Weapons Reveal About Russia's Brutal War Strategy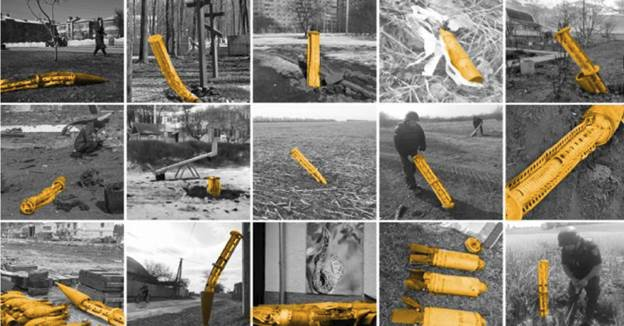 Reflecting a shockingly barbaric and old-fashioned wartime strategy, Russian forces have pummeled Ukrainian cities and towns with a barrage of rockets and other munitions, most of which can be considered relatively crude relics of the Cold War, and many of which have been banned widely under international treaties, according to a New York Times analysis.
The attacks have made repeated and widespread use of weapons that kill, maim and destroy indiscriminately — a potential violation of international humanitarian law. These strikes have left civilians — including children — dead and injured, and they have left critical infrastructure, like schools and homes, a shambles.
The Times examined more than 1,000 pictures taken by its own photojournalists and wire-service photographers working on the ground in Ukraine, as well as visual evidence presented by Ukrainian government and military agencies. Times journalists identified and categorized more than 450 instances in which weapons or groups of weapons were found in Ukraine. All told, there were more than 2,000 identifiable munitions, a vast majority of which were unguided.
The magnitude of the evidence collected and cataloged by The Times shows that the use of these kinds of weapons by Russia has not been limited or anomalous. In fact, it has formed the backbone of the country's strategy for war since the beginning of the invasion.
Of the weapons identified by The Times, more than 210 were types that have been widely banned under international treaties. All but a handful were cluster munitions, including their submunitions, which can pose a grave risk to civilians for decades after war has ended. More than 330 other weapons appeared to have been used on or near civilian structures.
---
A Cretinous Beltway Reproduction of a Stalinist Show Trial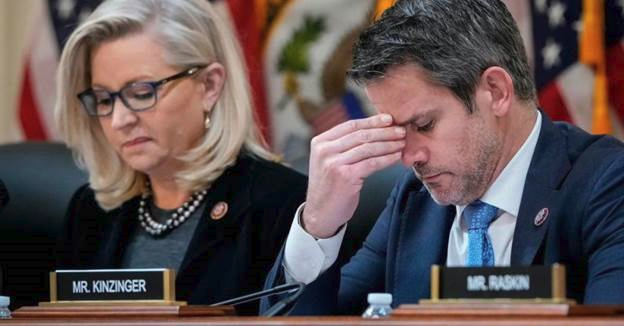 Are Liz Cheney and Adam Kinzinger accomplices after the fact?
If one watches episodic police and detective dramas, there often occurs a scene wherein a culprit is apprehended and charged as an accomplice "after the fact" for helping to cover up the crime. In the British equivalent of such shows, the police use the phrase "perverting the course of justice." The bottom line is, if one aids in concealing, distracting, or diverting attention from the criminal act to prevent its detection, one is guilty of participating in a criminal enterprise, whether it be before or after the fact.
The House of Representatives' January 6 committee has been called many things, such as a failed TV pilot, but sadly one knows what the committee is not and was never intended to be, courtesy of Victor Davis Hanson. As for the events of January 6 and its aftermath, the diligent and intrepid work of American Greatness' Julie Kelly is essential reading.
Regarding the motivation behind the committee, one is to damage Donald Trump's prospects in 2024, which the committee is in fact abetting by driving his base to rally around him. (Of course, this could well be the Democrats' covert hope, as many of them, rightly or wrongly, consider him the most beatable GOP nominee.) Another motive is to deflect public attention from Joe Biden and the Democrats' disastrous economy. (Good luck with that).
Yet, in conjunction with current developments in an ongoing criminal investigation and upon further reflection following this cretinous Beltway reproduction of a Stalinist show trial, these Democrats' hearings have a far more subversive motive: namely, concealing and preventing the detection of their own party's weaponization of the federal government's police and surveillance powers against its opponents, most notably in the instance of "Russiagate."
---
Boris Johnson: We will never be secure if we turn our backs on valiant Ukraine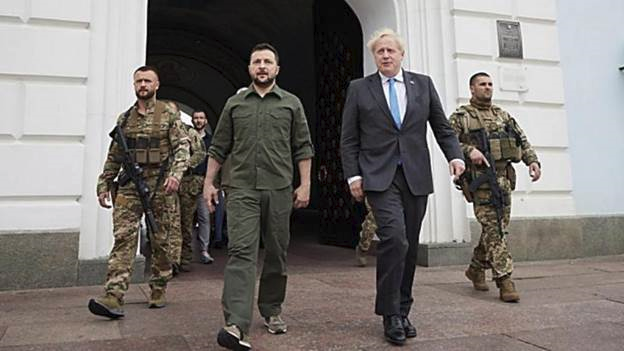 Imagine for a moment that Vladimir Putin's visions of glory were to come true. Suppose he was free to keep all the areas of Ukraine now controlled by Russian forces. What if no one was willing to lift a finger as he annexed this conquered territory and its fearful people into a greater Russia.
Would this bring peace? Would the world be safer? Would you be safer?
In our hearts we know the answer. Such a travesty would be the greatest victory for aggression in Europe since the Second World War. We know Putin would not stop at dismembering Ukraine. Only last week, he compared himself to Peter the Great and arrogated to Russia an eternal right to "take back" any territory ever inhabited by "Slavs", a doctrine that would permit the conquest of vast expanses of Europe, including Nato allies.
Meanwhile, across the world, every dictator would feel emboldened to pursue their own ambitions by force — and no nation anywhere would be safe. Is that really what anyone in any country would want?
Nearly four months after Putin invaded Ukraine and started the biggest war in Europe since 1945, the UK and our allies are united in our iron resolve never to countenance any of the above.
---
Debtor Nation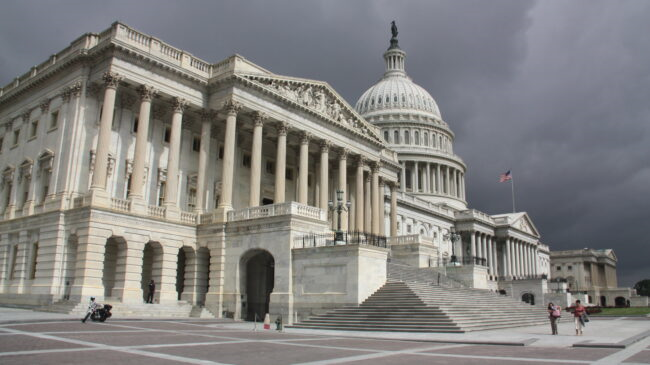 The national debt is over $30 trillion. The federal government ran an annual budget deficit in 52 of the last 57 years.
At the end of 2021, the $29.6 trillion debt of the United States federal government was 1.3 times larger than the annual economic output of the country. The U.S. is now reaching federal debt levels, as a share of gross domestic product (GDP), that we have not seen since the end of World War II. As of this writing, the national debt is more than $30 trillion.
Federal spending is increasingly untethered from fiscal realities. From 1965 to 2022, the federal government ran an annual budget deficit in 52 of the 57 years.
The annual federal budget deficits during and following the Great Recession of 2007-2009 were dwarfed by the recent federal deficits of 2020 and 2021, however, when annual budget deficits were $3.1 and $2.8 trillion respectively. The COVID-19 pandemic and accompanying lockdowns and policies sparked the largest spending bills in American history, including the $2.2 trillion CARES Act signed by then-President Donald Trump in March 2020. A year later, in March 2021, President Joe Biden signed the $1.9 trillion American Rescue Plan Act.
---
Most expensive ever: 2020 election cost $14.4 billion
Political spending in the 2020 election totaled $14.4 billion, more than doubling the total cost of the record-breaking 2016 presidential election cycle.
That's according to OpenSecrets' analysis of Federal Election Commission filings. OpenSecrets previously estimated that the 2020 election would cost around $14 billion. The extraordinary spending figure makes the 2020 election the most expensive of all time by a large margin.
The pricey presidential showdown between Joe Biden and Donald Trump was funded by an unprecedented number of small donors giving online and billionaires who wielded tremendous political influence over the last decade. Donors also fueled record spending in congressional races, capping off the 2020 election with the all-time most expensive Georgia Senate runoffs.
The hotly contested presidential election — both sides called it the most important race in history — was the catalyst for an influx of donations. Biden's campaign became the first to raise over $1 billion from donors. Biden's cash advantage over Trump helped him pepper swing states with far more campaign ads. Biden also received more help from super PACs and "dark money" groups.
Trump's campaign raised $774 million. Trump raised over half of his money from small donors giving $200 or less, a stunning figure no other presidential candidate has matched. Trump continued raising money long after news outlets called the race for Biden, racking up campaign cash he could use to influence the future of the GOP.
While the presidential election drew a record $5.7 billion, congressional races saw a stunning $8.7 billion in total spending.
Nine of the 10 most expensive Senate races ever occurred in the 2020 cycle. Five of the 10 most expensive House races happened in 2020. The rise in congressional spending started in the 2018 cycle, which smashed midterm spending records. All of the 10 most expensive House and Senate contests took place in one of the last two election cycles.
---
Apprenticeships, Not College, Can Help Reduce Unemployment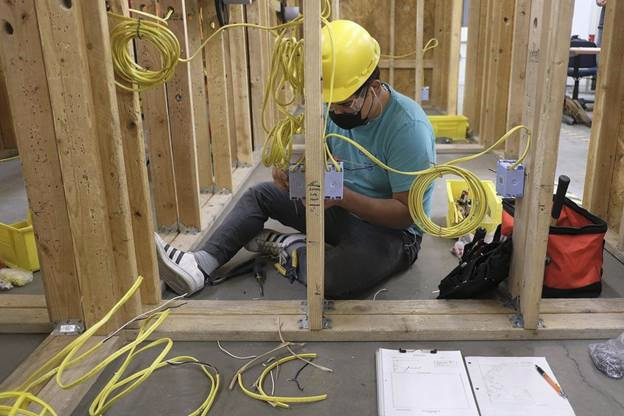 A flexible, industry-driven alternative for workforce education has a proven record of success.
At the World Economic Forum in January, Treasury Secretary Janet Yellen called for a "modern supply-side approach" to maximize America's economic potential. She said the U.S. must adopt policies that will increase the supply and productivity of workers. She's right about the goal but wrong about the policies.
An accurate diagnosis of what is affecting the labor market requires careful attention to chronic and acute problems. One chronic problem is that the share of adults working or looking for work has been generally falling for the past 20 years. Most of this decline has been driven by baby boomers' entering retirement, but that doesn't explain it all. Another significant factor is that men of prime working age, 25 to 54, are less likely to work today than those of previous generations.
The economic consequences of the pandemic and the response have profoundly and disproportionately affected young people. Between 2010 and 2020, younger people were becoming more likely to participate in the labor market. That trend has now reversed.
We estimate that the entirety of our current employment gap is driven by people without children under 18 at home and most predominantly by young adults. While total employment is down 0.28% since the start of the pandemic, employment among 20- to 24-year-olds is down 3.7%.
It's not that they're in school. College enrollment has also fallen significantly. According to the National Student Clearinghouse Research Center, enrollment fell in the last year by about 5% for 18- to 24-year-olds, with the highest decreases in community-college enrollment.