Former state Conservative Party Chairman Michael Long — a powerful force in New York politics who was instrumental in getting Republican George Pataki elected governor — died Sunday morning after a long illness. He was 82.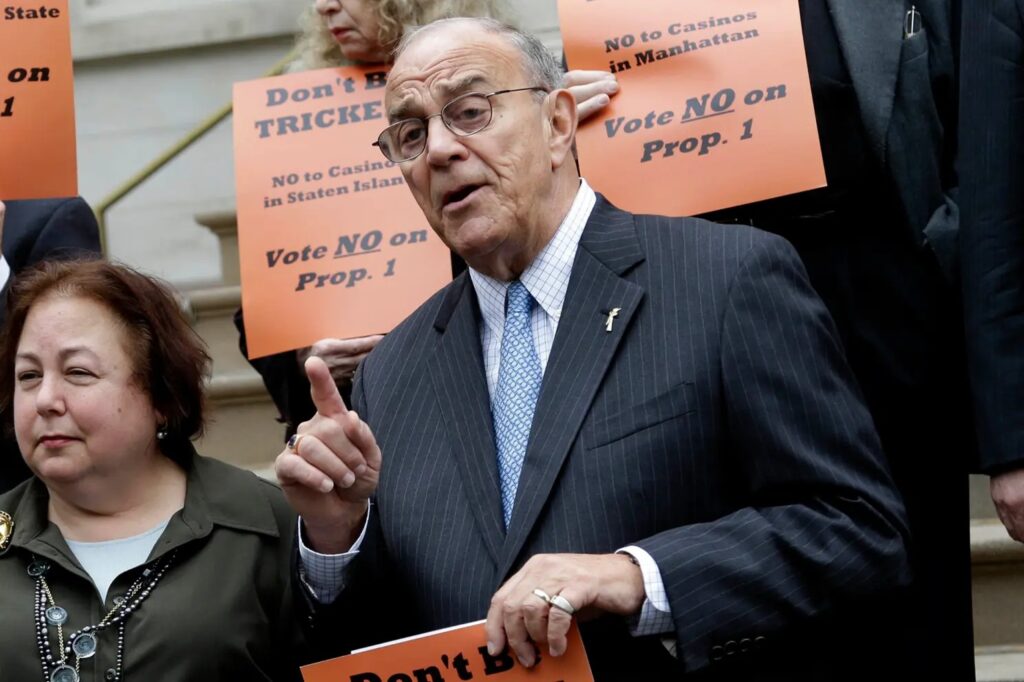 60 Plus Association Founder and Chairman Jim Martin said of Michael's passing, "We've lost a lion for individual liberty."
Saul Anuzis, President of 60 Plus commented, "Mike was a giant in the conservative movement whose activities and influence reached far beyond the borders of New York."
The Brooklyn-born political operative headed the Conservative Party for more than 30 years, from 1988 to 2019, and served a stint as an at-large member of the New York City Council from 1981-83.
He served in the US Marines from 1959-1961 and advocated for a strong American military.
Long was a fixture in Bay Ridge, Brooklyn, where he and his brother Tom owned Long's Wines and Liquors on Fifth Avenue and 79th Street. He later moved to Breezy Point, Queens.
A champion of small-business interests, he and his brother previously owned an ice cream parlor in Cypress Hills, Brooklyn.
It was Long's Conservative Party ballot line that helped Republican Pataki topple three-term Democratic incumbent Mario Cuomo, the father of former Gov. Andrew Cuomo, for the governorship in 1994. Pataki would go on to serve three terms.
The Conservative Party ballot line earlier also was crucial in electing Republican Al D'Amato to three terms in the US Senate.
Read More at The New York Post…
'A force': Michael Long, longtime NY Conservative Party chair, dies
As a Conservative Party leader, whether as the chair or in one of his previous roles, Long supported several successful candidates, including former U.S. Sen. James Buckley, who was elected on the Conservative line in a three-way race, and former President Ronald Reagan. Conservatives also supported former Gov. George Pataki and state Attorney General Dennis Vacco, two Republicans who won statewide elections.
Former Conservative Party Chairman Mike Long dies at 82
"Simply put, Mike was a force," said New York Republican Chairman Nick Langworthy. "An unmatched, rare breed of man who will long be remembered not just for his sharp political instincts or his success in growing the Conservative Party, but as a man of deep and unabiding integrity. He was a true partner whose word was his bond, and it was a great honor to serve alongside him. At his core, Mike was a man who loved his family and his country."
Former New York Conservative Party Chairman Mike Long dies at 82
"Chairman, Marine, and my friend Mike Long has been a legendary, principled leader in the New York State Conservative Party. His passing leaves an extraordinary void in the movement to promote the values of family, faith, and freedom in our state and country. Praying for the Long family during this difficult time as they mourn this incredible loss." – New York Congressman Lee Zeldin and the Republican Party and Conservative Party nominee for governor