Happy New Year: Wishing you all a happy, healthy, prosperous wonderful New Year filled with joy, love, tolerance, and liberty!
Biden's Border Crisis – An Invasion: Unvetted, unregistered, cartel smuggled illegal immigrants have flooded our communities under Biden and the Democrat's open border policy.
Our city, school, state, and even federal budgets are strained as we are forced to deal with the multitude of problems illegal immigration causes.
We are a county of immigrants, legal immigrants. My parents immigrated to this country with my two older sisters to find their part of the American Dream. They stood in line, registered and paid their taxes. They went through the generous and fair U.S. immigration process that is available to virtually anyone in the world.
But there's a big difference between legal and patriotic immigration and illegal immigration. And our society will pay the price for generations to come.
Russia vs Ukraine War: It is in the United States best interest to support Ukraine and Europe in its effort to defeat the Putin/Russian war criminals. Putin and his Soviet want-a-be's have viciously attacked civilian populations, kidnapped children and others, shipping them into Russian hinterland and using weapons outlawed by international treaties.
This is a war of choice by Putin and his minions to subvert the self-determination of its neighbors. There is NO threat to Russia proper. No one wants to attack, occupy, or take over Russia. Their kleptocracy can exist for generations to come if their people and dictators so please.
Defeating Putin and his Russian cohorts makes the world a safer place. It strengthens NATO and brings the realization that rogue leaders in Russia remain a threat. It demonstrates the weakness of the Russian kleptocracy and its inability to effectively rule the world's largest country by land mass. It brings millions of Eastern Europeans into the west by choice and expands democracy and rule of law to a greater part of the world setting an example for many others.
Yes, we need accountability and direction on spending and assistance to an emerging country that historically has been fraught with corruption. The Europeans must continue to step up and pay their fair share to support their neighbor Ukraine. But the United States must continue its role as the free world's leader and do its part to support the fundamental values embodied in western civilization.
Read more below and follow me on Twitter & GETTR – @sanuzis  
–Saul Anuzis
Click Here for Past Commentary from Saul
---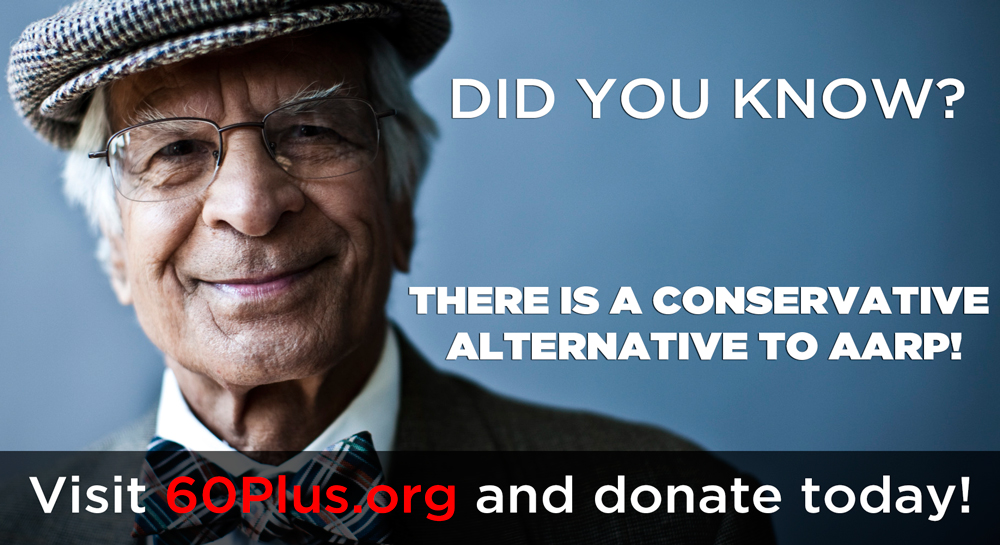 DONATE TO 60 PLUS!
We're fighting every day for seniors and retirees by working to eliminate the death tax, ensure healthcare freedom, and save social security for future generations. With your essential help we will continue the fight. You can even donate using Bitcoin and Ethereum!
Thank you for your help and support of the 60 Plus Association.
Donate Today! Visit https://www.60plus.org/donate
---
US plans for more migrant releases when asylum limits end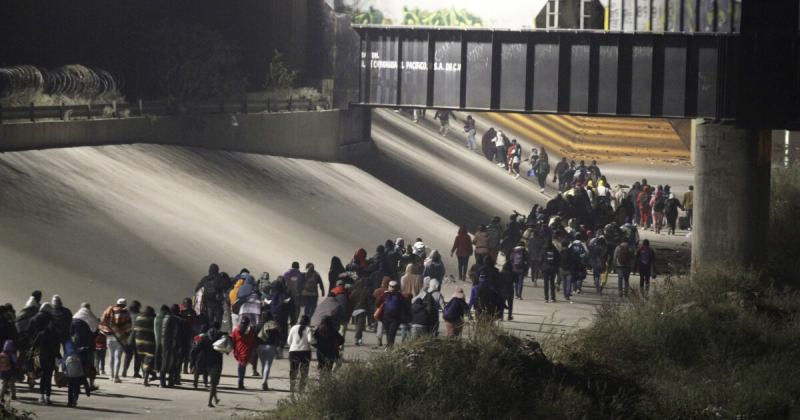 Conveniently released just hours after Congress passed a $1.7 trillion spending bill that only weakened border security, the November Southwest Land Border Encounters number should put to rest any claims from the open-borders Left that use of Title 42 as an immigration enforcement policy actually increases illegal border crossings.
Common sense would inform anyone that if you let more immigrants into the United States instead of turning them away, more will come. But according to the American Immigration Council, turning immigrants away through Title 42 only increased illegal crossings.
Here is its reasoning:
"Over 1.8 million expulsions under Title 42 have been carried out since the pandemic began. However, nearly half of those expulsions were of the same people being apprehended and expelled back to Mexico multiple times. This is because Title 42 has led to a significant increase in repeat crossings at the border. Half of all single adults from Mexico, Guatemala, Honduras, and El Salvador who have been expelled to Mexico under Title 42 have been apprehended crossing the border again. As a result, Title 42 has significantly increased overall border crossings."
---
Biden's unserious border 'solution' — mass amnesty for all illegal immigrants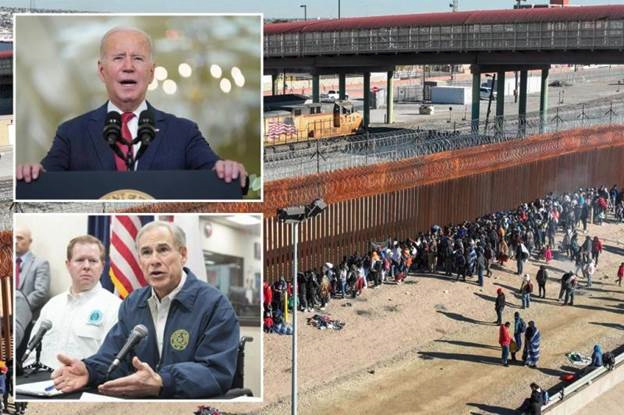 Talk about using people as political pawns.
The White House complained Monday about Texas Gov. Greg Abbott's latest busload of migrants dropped off at the vice president's doorstep on Christmas Eve. But the administration's response was to use the 100 or so illegal immigrants as an argument for its mass-amnesty legislation, a bill so radical even Speaker Nancy Pelosi wouldn't bring it up for a vote.
Abbott reported Monday that Texas over the past several months had bused nearly 16,000 illegal border-jumpers to the sanctuary cities of Washington, New York, Chicago and Philadelphia. This may sound like a lot but it's really just two days' worth of illegal-migrant "encounters" at the border.
The purpose of these voluntary, state-funded bus trips is twofold: First, they offer some relief to the small border communities groaning under the burden of President Biden's mass illegal-immigrant releases, and, second, they force a reluctant national media to cover a border disaster they'd prefer no one notice.
And, boy, do those communities need some relief. Even the biggest of them, El Paso, has just half the population of The Bronx and is so overwhelmed by Biden's immigration crisis that the city council voted unanimously to declare a state of emergency. Biden is releasing so many illegal immigrants there that many are sleeping on the streets, while others have set up shantytowns (Bidenvilles?), which police began to break up Monday.
Dismissing the bus trips as "political games," the administration played its own political game. White House spokesman Abdullah Hasan said, "we are willing to work with anyone — Republican or Democrat alike — on real solutions, like the comprehensive immigration restructuring and border security measures President Biden sent to Congress on his first day in office." This was a bill — called the US Citizenship Act — that even its Senate sponsor, Bob Menendez of New Jersey, acknowledged had no chance of passage even in a Democratic-controlled Congress.
This "solution" to the border crisis would have amnestied all illegal immigrants who arrived here at least three weeks before Biden's inauguration, weakened enforcement, brought deported illegal immigrants back to the United States and doubled legal immigration. The only thing it would have "solved" is the existence of the border.
---
Omnibus bill affirms Congress' budgeting practices that spiked the national debt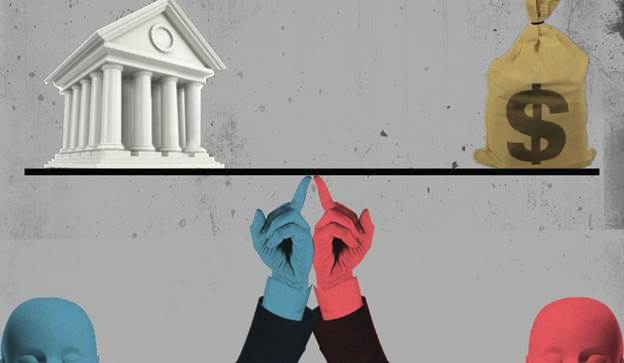 The Christmas season of 2022 has come to a close, and in keeping with tradition, some wishes have been realized and others deferred. Visions of sugarplums that danced in congressional heads virtually have been realized in the form of a $1.7 trillion spending bill. For Americans, though, Washington's holiday binge pushes financial security into the realm of wishful thinking. Prudent economic policy — the hallmark of stable governance — will not come to pass until the day voters demand it.
The fiscal 2023 omnibus appropriations bill sent for President Biden's signature affirms the same government spending practices that pushed U.S. national debt above a record $31 trillion milestone in October. Included are $858.4 billion for defense — a 9.7% increase over 2022 — and $787.4 billion for nondefense discretionary programs — 7.9% above last year's amount.
Rolling 12 appropriations bills into one 4,155-page monstrosity, Congress loaded the federal ATM with goodies ranging from a 20.9% boost in spending for military construction in the Veterans Affairs appropriation to a 1.4% hike for the Department of Agriculture. Faced with a take-it-or-leave-it choice, lawmakers — including a number of Republicans reputed to be fiscally responsible — took it.
To be sure, Democrats are known for their skill at making a virtue of pecuniary vice. Rep. Rosa DeLauro, Connecticut Democrat, boldly wrote that the bill "fulfills 98 percent of Democratic Member requests in the House, with $5.4 billion for 3,213 Democratic projects." Notably, she pointed out that the Department of Defense is to receive $100 million above its budget request for a "Energy Resilience and Conservation Investment Program." Copping gifts not even dreamed of is a Christmas miracle, indeed.
---
Biden's Policies — The pain isn't goin' away: Inflation cost households an extra $10K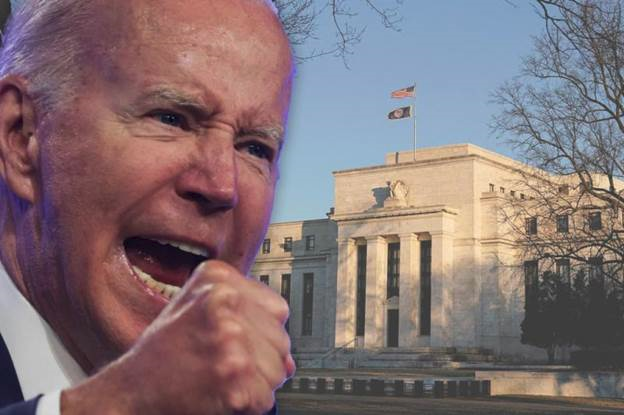 Inflation is over, the administration crows, even as Congress works to pass another massive spending bill — this time, $1.7 trillion.
But struggling families know not to pop the cork yet.
The consumer price index rose just 0.1% last month, bringing the 12-month rate to 7.1% — still higher than any year since the disco days of 1981. Politicians have downplayed inflation ever since President Biden ignored economist warnings in early 2021 that it would be economic malpractice to throw a $1.9 trillion stimulus bill at a supply-constrained economy. Then we were told that inflation was "transitory," a relic of corporate price gouging and "Putin's price hike."
The Federal Reserve has also downplayed inflation. Two years ago, its Federal Open Market Committee (FOMC) forecast that inflation (using a slightly different measure called the PCE, for Personal Consumption Expenditures) would be 1.8% in 2021. It instead came in at 5.8%. Not learning its lesson, the FOMC projected that inflation in 2022 would fall to 2.6%. It is now set to end the year at 5.6%. So here we are again, with the FOMC projecting inflation rates of 3.1%, 2.5%, and 2.1% over the next three years.
---
The top 5 media stories of 2022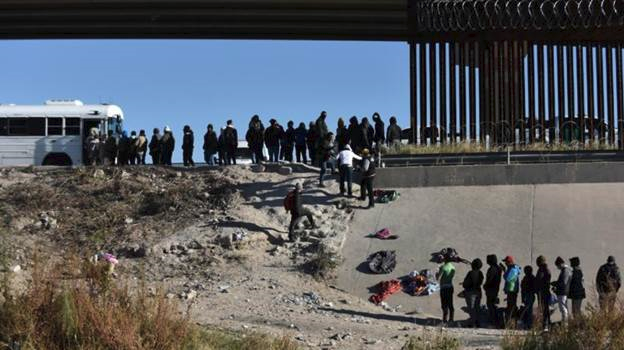 Just when you thought the polarization and partisanship permeating the media industry couldn't possibly get any worse, it did so in 2022.
And the sad part is, the trend won't reverse itself anytime soon. How bad are things these days for the industry? An October New York Times poll shows that 60 percent of voters view the media as a threat to democracy.
With that backdrop, here are the top five news stories of 2022, even if the national press covered some of them very lightly.
---
School choice has a year of victories, but politicians must learn from parents to go big or go home in 2023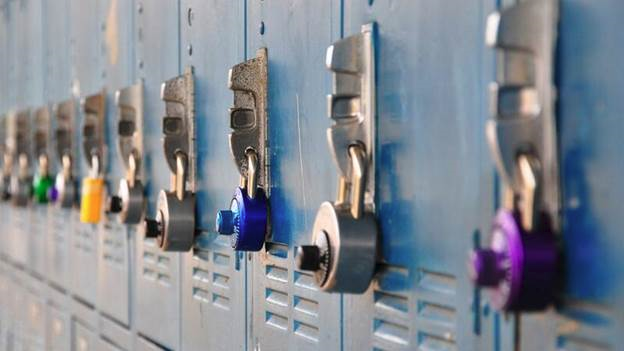 America's education system is outdated and parents are using school choice to have their voices heard.
The 2021/22 legislative cycles resulted in the largest advancement of school choice in American history. Prompted by overwhelming demand from families, 24 states passed legislation to expand, create, or improve school choice programs.
The story has been well-chronicled by center-right media and elsewhere: COVID-19-induced school shutdowns exposed parents to the long-existing realities of the education system. Many parents did not like what they found. As a result, more parents than ever raised their voices in demand of educational opportunities for their kids.
Widespread public interest in school choice is long overdue. Since the establishment of the first American public school in 1839, education is the least-reformed institution in the entire American political experiment. Our classrooms are modeled to train industrial workers, and our calendar still follows long-abandoned agrarian cycles. Far worse, our existing system is flagrant discrimination by ZIP code, and a one-size-fits-all system will never serve the needs of every student. Meanwhile, the success of school choice around the country is indisputable.
The future of America depends upon the education of the next generation. The question now becomes how to extend meaningful options to all families in the United States – not just the select few. As we look toward 2023, school choice advocates and those interested in education freedom should consider the following.
---
Bakhmut: Fortress of Freedom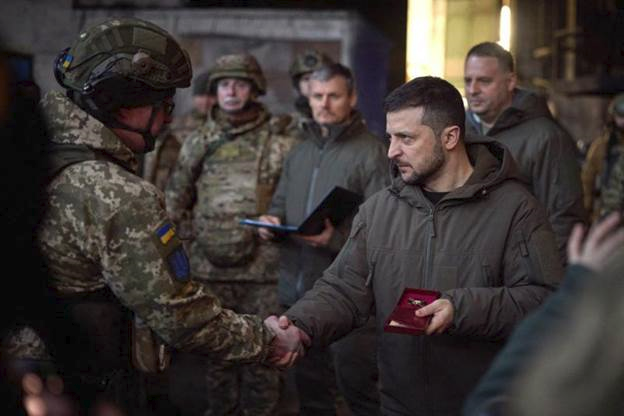 Ahead of the Christmas holiday, Ukrainian President Volodymyr Zelenskyy paid an official visit to the United States. While in Washington DC, he presented the American people with a symbol that is very dear to our hearts: a Ukrainian flag signed by The Watch, as we call the defenders of Bakhmut, a city in eastern Ukraine that is currently witnessing some of the fiercest fighting of the Russian invasion. This flag is a powerful symbol of the global fight for freedom taking place in our country.
In recent months, Bakhmut has become a fortress. Thousands of Ukrainians are on the front line fighting for freedom. Their daily struggle takes place knee-deep in mud and on frozen ground. Freedom is defended inch by inch in the trenches and amid the rubble of a shattered city. Ukraine is currently sacrificing its best people in defense of the free world. They are paying the highest possible price to safeguard their nation's existence and the right to choose a democratic future.
The situation in Bakhmut is extremely difficult. Before the war, I had not had the opportunity to visit it, but I knew by reputation that it was an extraordinary city of sparkling wines, salt, and roses. Journalists, historians, and local artists have long called Bakhmut one of the most picturesque cities in eastern Ukraine. Based on my recent experience, I believe these claims are an understatement: the magic of Bakhmut is still evident, even though the city now lies in ruins.
Since summer 2022, Putin's generals have concentrated their forces around Bakhmut in a desperate bid to seize the city. It has become a symbolic prize for the Kremlin that far outweighs any strategic value. They launch wave after wave of massive attacks, often suffering catastrophic casualties. In Russia, soldiers have always been viewed as expendable. This remains true today. But they are many and we also suffer painful losses.
---
The Arsenal of Democracy Is Back in Business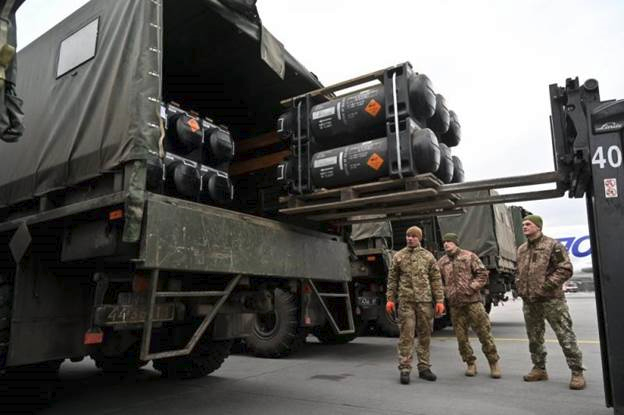 Proposed U.S. arms sales to NATO almost doubled this past year as Russia's aggression spooked the continent.
The United States nearly doubled the number and price tag of approved arms sales to NATO allies in 2022 compared with 2021, as alliance members scramble to stock up on high-end weapons in the wake of Russia's war in Ukraine.
In 2021, the U.S. government approved 14 possible major arms sales to NATO allies worth around $15.5 billion. In 2022, that jumped up to 24 possible major arms sales worth around $28 billion, including $1.24 billion worth of arms sales to expected future NATO member Finland, according to a Foreign Policy analysis of two years of data from the U.S. Defense Department's Defense Security Cooperation Agency.
While not all arms sales will be finalized with the same numbers outlined in the proposals, the sharp uptick in these plans reflects a massive shift in Europe's security landscape after Russia launched its full-scale invasion of Ukraine in late February. After some European countries allowed their defense capabilities to atrophy for decades, Russia's invasion jolted Europe into a scramble to rapidly boost military spending.
"Everyone is trying to lock down arms sales deals as quickly as possible," said one Eastern European defense official, who spoke to Foreign Policy on condition of anonymity. "Russia's invasion has brought a cold new reality to Europe."
---
The Looming GOP Crisis Over Ukraine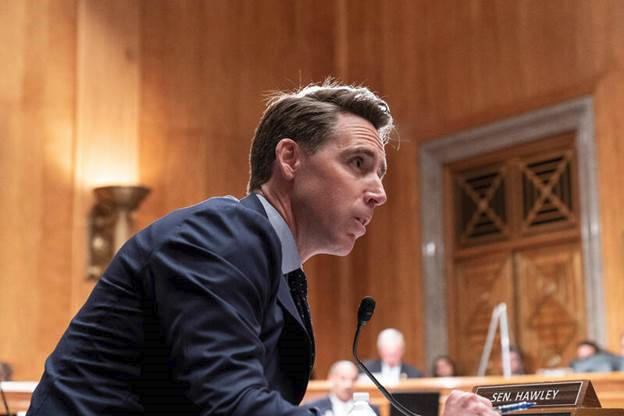 Recently elected Republicans are ready to fire up the base with anger over billions spent to protect allies overseas.
The most revealing Trump comment this month wasn't about his legal jeopardy, his taxes or even the get-yours-now NFTs he began hawking ahead of the holidays for a cool $99 each.
In fact, the comment wasn't even made by Donald Trump himself.
"Zelensky is basically an ungrateful international welfare queen," Donald Trump Jr., the former president's eldest son, said on Twitter shortly before the Ukrainian president traveled to Washington.
Like much from his social media oeuvre, Trump the younger was thirsting for clicks and attention (mission accomplished!). Yet his attack, wrapped with a dog whistle-shaped bow for his fellow conservatives, represented more of a substantive critique on a signal foreign policy issue than his dad has ventured in recent weeks.
More significantly, the invective, from a dedicated troll who's obsessive about properly channeling the right's id, was a reminder of the churning debate within the Republican Party — one the party's putative presidential frontrunner is effectively sitting out but that's only intensifying.
After six years of defeat and coming on two decades since one of their standard-bearers claimed the popular vote, the GOP is in the midst of an identity crisis.
It must grapple with whether it's going to retain the Reagan-shaped form most of its elites prefer, a light touch on the market and firm hand abroad, or shift to better reflect an increasingly working-class coalition with no doctrinal allegiance to the free markets and free people Gospel of Paul (Gigot). Or, the more likely outcome: try to forge a hybrid between the two approaches while emphasizing issues of tribal consensus — confronting the left at home and the Chinese abroad — and hope the Democrats put forward a weak nominee.