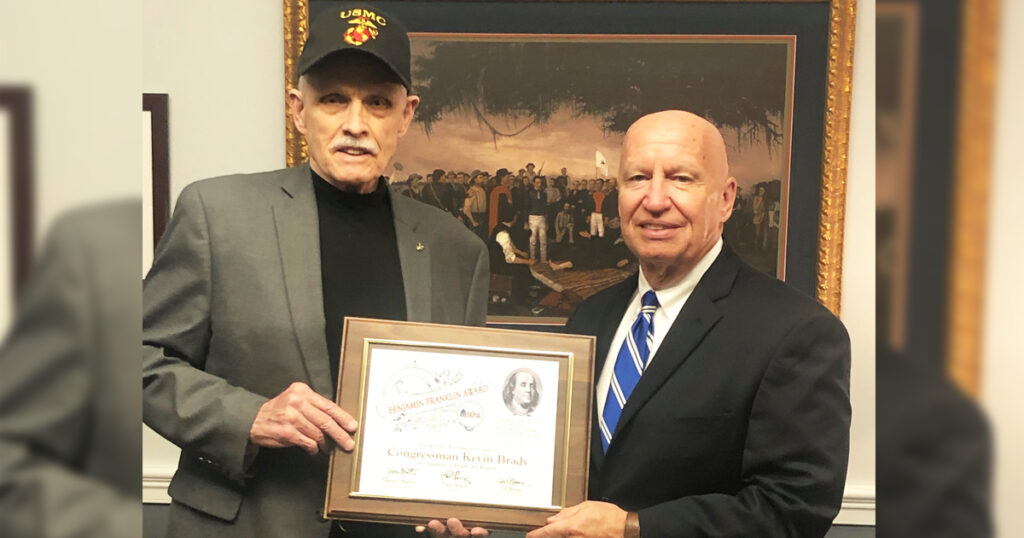 Pat Boone, one of Hollywood's legendary movie and TV stars from the 1950s honored retiring Texas Republican Congressman Kevin Brady with a Benjamin Franklin Award from 60 Plus, the American Association of Senior Citizens.
Boone serves as National Spokesman for 60 Plus. In remarks prepared for the event on Capitol Hill, Boone, now 87, and in his 60 plus (pun intended) years of show business said he still enjoys signing at concerts.
But unable to attend in person Boone called it "my privilege" to help honor the retiring Brady.
Boone has three stars on the Hollywood Walk of Fame—for movies, TV shows and his ongoing singing career. He has had 38 top 10 hits since his recording career began in the 1950s and, according to Billboard magazine, holds the record for the most consecutive weeks (220) on the charts by any other performer.
On hand to make the presentation, 60 Plus Founder Jim Martin noted that senior citizens could always count on Kevin Brady.
"In all my many years working on Capitol Hill," Martin emphasized, "first as a newspaper reporter covering Congress starting way back in 1962, then as a staffer in Congress, I've never known a more dedicated Member of Congress than Kevin Brady.
"Looking back on reading and learning about Congress, Kevin must have been who civics classes had in mind as the quintessential Representative of the people," Martin said.
He said his organization fashioned a Benjamin Franklin award that he presented to Brady, who Martin said was the leading architect of legislation to repeal the confiscatory estate tax, now commonly referred to as the death tax.
Martin observed that It was Mr. Franklin who famously said there are two certainties in life—taxes and death.
However with the advent of the estate tax, Martin added, an unfortunate third certainty was added, taxes after death.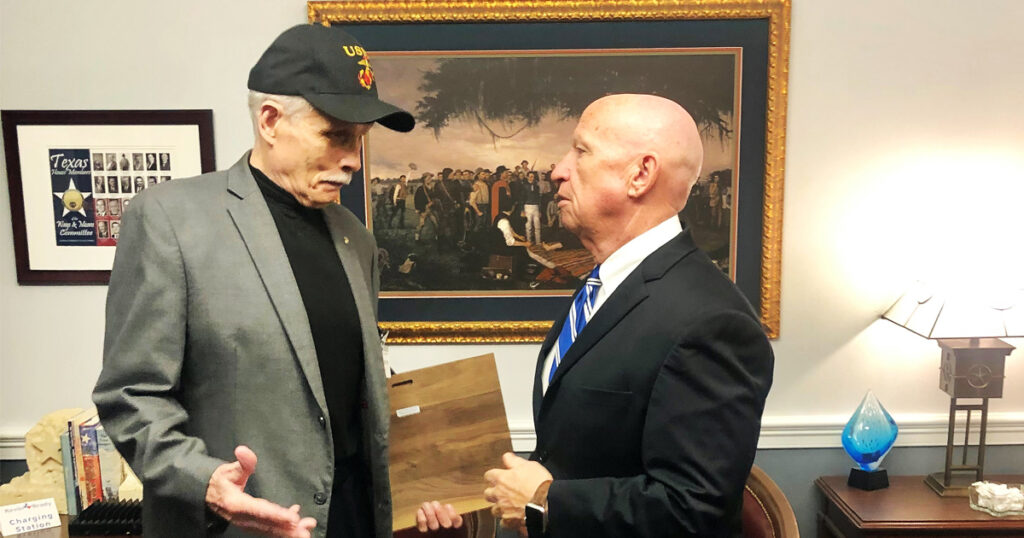 Martin noted that leaders such as Kevin Brady in the House of Representatives and South Dakota's John Thune in the Senate introduced legislation to eliminate the estate tax.
"We feel the estate tax is aptly named the death tax, because it's a tax only applied after death, to a decedent's estate. While relatives are grieving, what an awful thing to face, Uncle Sam, —not even a blood relative—is suddenly the first claimant in line.
"I dare say greedy ol' Uncle Sam is not grieving. He's all too happy at a new opportunity to fleece another's pockets. I may sound a bit overbearing but a tax imposed on estates four times to help our young nation build its military defenses, was quickly repealed the first three times imposed, but following reinstatement a fourth time over 100 years ago to help finance our defenses during the Spanish-American conflict, the tax was not routinely repealed as it had in the past. As someone observed, a greedy Congress kept the tax on the books. In fact, gruesome as it sounds, the only thing left alive from that war is the estate tax.
"We at 60 Plus regard its repeal as a moral duty. Leaders like Brady made it their mission to repeal. I have no doubt that if he remained in Congress I know he would have finally succeeded in repeal of that third certainty, taxes after death and made Mr. Franklin's famous observation accurate again.
"60 Plus is well aware there are others to step into the battle and 60 Plus stands ready to present the Franklin award to his successors in future Congresses.
"But today it's our honor to bestow the coveted Franklin award on Representative Brady. I bring well wishes from Pat Boone who wanted to be here and he said to be sure I conveyed his best to you."