The senior vote is always the deciding factor in elections whether they be Congressional or Presidential and the 60 Plus Association understands this value & has the ability to harness the raw political power of older voters within the electorate. 
The Pew Research Center noted in a recent study which analyzed voting trends during the 2018 midterm election:
"The number of votes cast by Boomer and older generations increased 3.6 million. Even this modest increase is noteworthy, since the number of eligible voters among these generations fell by 8.8 million between the elections, largely due to higher mortality among these generations."
https://www.pewresearch.org/fact-tank/2019/05/29/gen-z-millennials-and-gen-x-outvoted-older-generations-in-2018-midterms/
The study also concluded that the "Baby Boomer" generation (those born between 1946 & 1964) voted in record numbers in that election.  The figures are staggering when you consider that Baby Boomers and the prior generation accounted for 49% over the total vote in 2018 with over 60 million votes cast.
"Baby Boomers,those ages 54 to 72 in 2018, had their highest-ever midterm election turnout (64%, the same rate as the Silent Generation) and cast more votes than they ever have in a midterm (44.1 million)."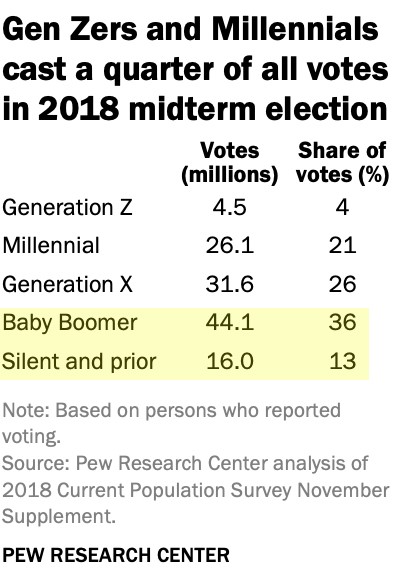 Additionally, an Axios report recognizes census data that shows older generations' growing voting power:
"Retirement-aged Americans outvote young people. They're also more likely to have expendable income to invest in political candidates and parties."
https://www.axios.com/demographic-shifts-what-matters-2020-424161bf-1e6e-4da9-b2b2-9a6b2b2099fa.html
The 60 Plus Association has a direct connection with these politically active and engaged seniors who span the entire country.  The passion and sincerity of these patriots cannot be put into words and should not be underestimated.  When older voters among us become focused on an issue they are truly a force to be reckoned with!