There Are Bad Guys: Unfortunately, lots of them. Whether it's the terrorists of Hamas, or the radicals of ANTIFA or the Aryan Nation folks, we have a problem. It's not a left/right issue, it's a good vs evil issue.
We better wake up.
"The United States is more vulnerable than Israel ever was, and now we must face the reality of our own failed national security policies. Our border is a terrorist's playground, and it is the duty of our leadership to engage with the sole purpose of prioritizing national security. This is not a political issue. This is not a Left or a Right talking point. It is time for those in Washington to do their job or step aside. There can be no equivocating or compromising when it comes to the safety of the American people. We must take immediate steps to ensure our economic and physical security."
I encourage you to read the opening article and think about where we are as a country and a culture. What are we leaving our children and grandchildren?
I'm afraid we won't have enough time to apologize for the world we created…or let happen.
Classic Liberal Gibberish: Paul Krugman's assertion that "the war on inflation is over" if you exclude food, energy, shelter, and used cars.
Only liberals and Democrats believe in this crap! See the article below.
Read more below and follow me on Twitter & GETTR – @sanuzis  
–Saul Anuzis
Click Here for Past Commentary from Saul
---
Saul's News Rewind Video is Now on Rumble!
This Week: This Week: Social Security benefits to get a smaller increase next year, US taxpayers have given a surprising amount of money to the Palestinians, and a dire warning from Joe Biden in 2007!
Links to the articles discussed in the video:
https://thehill.com/business/4252011-social-security-benefits-to-rise-3-2-percent/
https://freebeacon.com/national-security/u-s-taxpayers-sent-more-than-400-million-to-gaza-since-hamas-takeover/
https://townhall.com/tipsheet/saraharnold/2023/10/11/resurfaced-2007-video-shows-biden-discussing-the-dangers-of-leaving-weapons-in-afghanistan-n2629715
---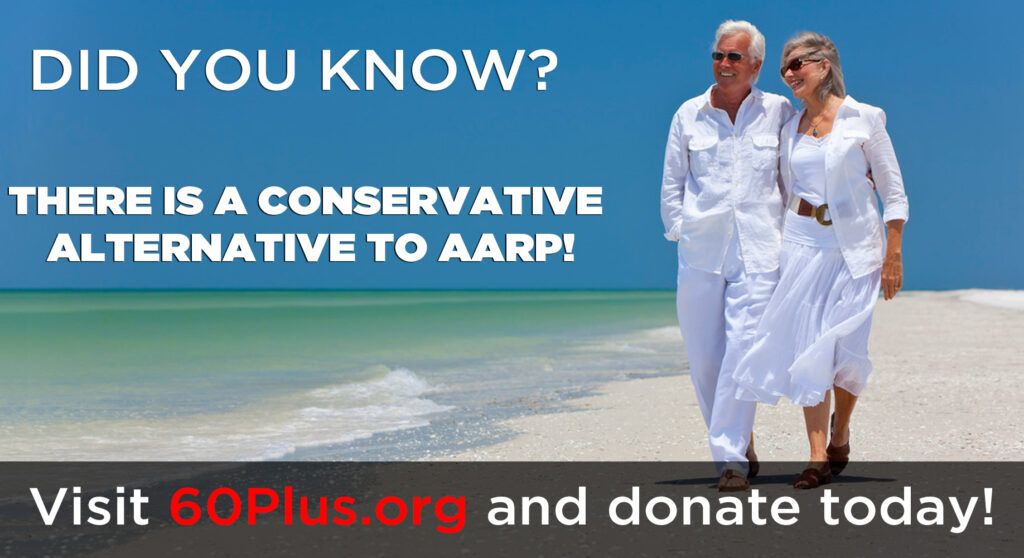 DONATE TO 60 PLUS!
We're fighting every day for seniors and retirees by working to eliminate the death tax, ensure healthcare freedom, and save social security for future generations. With your essential help we will continue the fight. You can even donate using Bitcoin and Ethereum!
Thank you for your help and support of the 60 Plus Association.
Donate Today! Visit https://www.60plus.org/donate
---
Israel war: A warning to America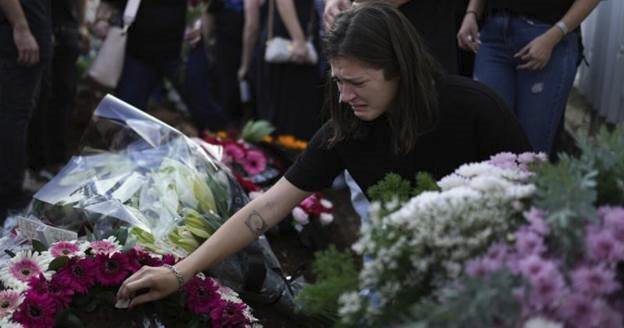 Israel's equivalent of 9/11 came on their Sabbath and the 50th anniversary of the Yom Kippur War. The world watched in horror as Hamas continued its reign of terror, launching upwards of 5,000 rockets into Israel and killing more than 1,100 men, women, and children. Twenty-two Americans have been killed, and more than 100 civilians, including children and elderly women, have been kidnapped.
Mossad, one of the best intelligence agencies in the world, along with our own CIA, didn't even see this coming. Hamas crept in during the middle of the night, dragged old women and parents from their beds, and left their murdered bodies in the street. Israel is anything but a weak nation, and its willingness to defend its homeland is not a secret. For this reason alone, we must acknowledge the despicable acts of Oct. 7 as a cautionary tale for the United States .
With all this technological superiority, the powerful Israeli Defense Force was caught completely off guard in a coordinated sea, air, and land attack by Hamas. Twenty-two targets were planned out with great precision, leaving the world to wonder if IDF's Southern Command is compromised. This Southern Command oversees the Gaza Strip and the West Bank, and it is the home of Israel's F-16 strike fighters. It is equivalent to our U.S. Northern Command, which coordinates the efforts of the Department of Defense, Department of Homeland Security, Customs and Border Protection, U.S. Coast Guard, and North American Air Defense.
There is no doubt Iran was part of the funding, equipping, and planning of this massacre…
…I believe something far worse than Sept. 11 is brewing.
If I were to attack America, I would weaken her from within first. I would sew seeds of discontent and discord so effectively that I wouldn't need a sneak attack in the middle of the night or to paraglide into a concert. I would distract and confuse so even the most logical actions to protect a nation are labeled racist or hateful. I would use emotion and headlines to manipulate the narrative. I would flood our borders with immigrants so the tens of thousands of military-aged men can blend in and secure their foothold. I would turn the Left against the Right on social issues, I would turn educators against parents, and vice versa. I would corrupt their language and threaten their livelihood if they spoke out against the culture. I would normalize crime.
I would weaken our military and make national pride akin to fascism. I would use war in other parts of the world to force spending abroad instead of ensuring a safe haven at home. I would exploit a weak economy to continue supply chain issues, increasing our reliance on foreign entities in manufacturing and medication. I would deplete our weapons arsenal so our engagement on the world stage was eventually crippled. I would sew division so deep we no longer recognize right from wrong. I would use the last three years to cause confusion and chaos in Washington.
And then I would strike.
---
Bidenomics is a big problem for seniors
Law will throttle R&D for new, life-saving medicines and the improvement of existing ones
The White House has the insulting and infuriating habit of thinking it can spin reality with the American people. If it's raining, insist the sun is shining! The prime example is the president and his acolytes declaring that life under Bidenomics is good and getting better.
Of course, that's a loser's bet, unless they can prevent people from going to the grocery store and the gas pump, stop them from opening their utility bills or buying a car or securing a mortgage or seeking medical care. No wonder Biden's approval ratings on the economy continue to tank.
Another example is the obscenely misnamed Inflation Reduction Act (IRA), whose unhinged spending fueled inflationary fires rather than quenching them. Turns out this bill was loaded with climate tax credits and cash outlays that are rewarding politically connected cronies and will end up worsening the environment, not bettering it.
---
NY Times' Paul Krugman says 'inflation is over' — if you exclude food, gas and rent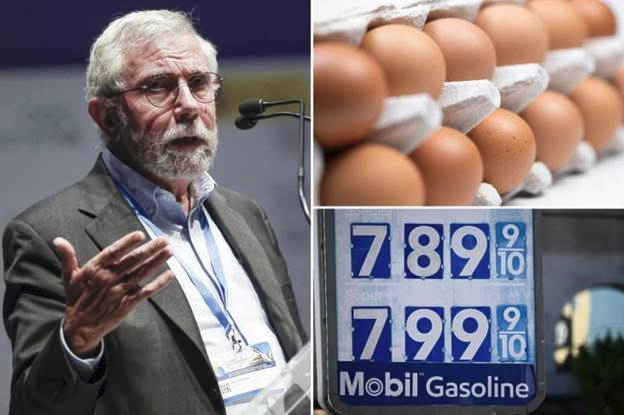 Paul Krugman's assertion that "the war on inflation is over" if you exclude food, energy, shelter, and used cars is being mocked online.
The Nobel Prize-winning economist and New York Times columnist posted the comment on his X social media account on Thursday.
"The war on inflation is over," Krugman wrote in the caption, adding: "We won, at very little cost."
Krugman attached a graph titled "CPI ex food, energy, shelter and used cars" that showed a declining rate stretching from 7% in January of last year to slightly below 2% in September.
The reaction on X to Krugman's post was scathing, with critics noting that the Labor Department's consumer price index (CPI) — the most widely used by economists to gauge prices faced by consumers — factors in those day-to-day living expenses.
"This is fantastic news for all Americans who don't need food, a place to live, or fuel & electricity," wrote Tim Murtaugh.
---
Harris and White House mum on possibility of presidential succession
Top White House officials reportedly dismissed questions about the possibility of Vice President Kamala Harris having to succeed President Joe Biden before the end of his term.
In recent interviews for a new profile of Harris published by the Atlantic, the officials dismissed the questions even though Biden is 80. Biden was the oldest person to be elected president at 77 and is also the oldest sitting president the United States has ever had. Further, he is the second oldest living U.S. president, aside from 99-year-old Jimmy Carter, who is currently in hospice care.
White House chief of staff Jeff Zients was asked by the Atlantic's Elaina Plott Calabro about Harris's observed traits that give him confidence in her ability as the potential president. In an initial response, he said, "Well, I want to, you know, make sure we're not talking about anything — but, you know, she's prepared." As for what Zients wanted to confirm they were not discussing, it may have been worries over Biden falling ill or dying in office, a growing concern among voters due to his age.
In a more formal answer, he added that Harris has experience, good intuition, and the ability to focus and keep her team accountable.
---
Rising Voter Anger Over Illegal Immigration Is Big Problem For Biden, Dems In 2024: I&I/TIPP Poll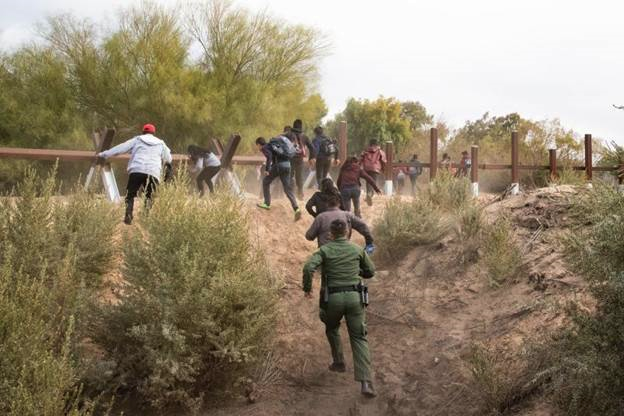 Rising crime and an increase in terrorists on the watch list coming across U.S. borders add to Americans' concerns.
If you're wondering why President Biden has suddenly shown renewed interest in illegal immigration, wonder no more. As the I&I/TIPP Poll for October clearly shows, most Americans now see the open U.S. border as a serious national problem. And that also includes Democrats.
With a record surge of illegal immigrants into the U.S., I&I/TIPP asked the 1,378 voters who responded to the national online poll, which was taken from Sept. 27-29: "How would you describe the current situation at the United States' southern border with Mexico?"
The poll, which was taken from Sept. 27-29 and has a margin of error of +/-2.7 percentage points, then provided five potential responses for participants: "crisis," "a major problem," "a minor problem," "not a problem," and "not sure."
The response was clear and unequivocal. 72% of Americans called it either a crisis or a major problem. Just 22% said it was either a minor problem or not a problem. Another 6% said they were "Not sure."
---
Americans face the consequences of unbridled immigration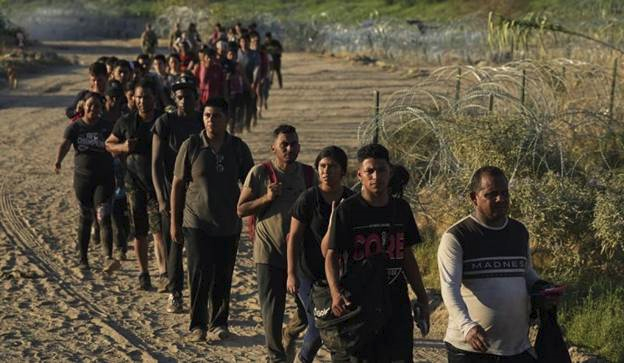 No nation in the past century has been more responsible than the United States for the rapid pace of human progress. Yet many Americans find themselves disoriented when walking out the front door reveals a landscape that practically changed overnight.
President Biden's open-borders policy is leaving citizens feeling like strangers in their own land.
A record-setting 260,000 encounters with citizens of other countries who crossed our southern border illegally were logged by U.S. Customs and Border Protection in September, bringing the total for the just-concluded fiscal year to more than 2.8 million. Since taking office, Mr. Biden has presided over a porous national boundary that has allowed more than 6 million unlawful entries.
With at least 4 million settling successfully in less than three years, illicit migration alone has added the equivalent of Oklahoma's population to the United States.
Immigration and Customs Enforcement reports the new arrivals have fanned out to the far reaches of the nation. Rather than acting as border enforcement, though, the Biden administration has served as a travel agency, facilitating the northbound flow.
---
How Large Is the Federal Debt?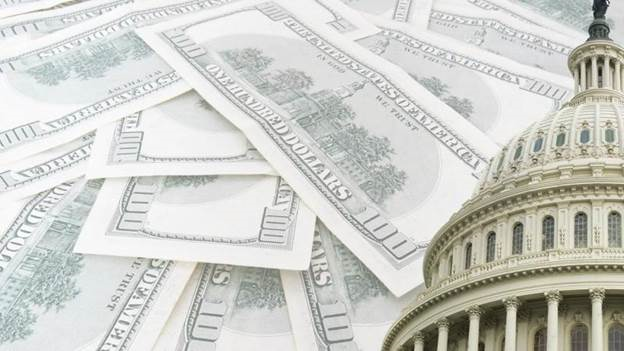 The federal government's debt is massive and growing rapidly. How massive? Federal debt held by the public of $28.5 trillion is eight times larger than the combined debt of all state and local governments of $3.3 trillion.
Not only is state and local debt much smaller, but the states have more justification for accumulating debt than the federal government. That is because a larger share of state‐local spending is for capital investment, which is partly financed by debt. State‐local debt is matched by large holdings of return‐producing assets such as highways.
By contrast, federal debt generally funds consumption—such as entitlement programs—not capital investment. And while federal borrowing during crises and recessions is reasonable, the debt should be paid back when the economy is growing.
The chart below compares federal debt as a percent of U.S. gross domestic product to the state‐local debt of each state as a percent of state GDP. Federal debt of 98 percent in 2023 compares to the simple average of state‐local debt of 13 percent. (The state ratios are from Census data for 2021, but total state‐local debt has changed little since then).
---
RFK Jr. Officially Announces Independent Bid for Presidency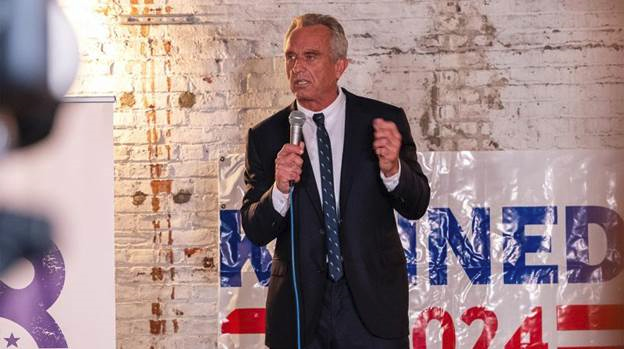 Speaking in Pennsylvania, Kennedy said he wants to 'declare independence' from the country's two major political parties
White House hopeful Robert F. Kennedy Jr. on Monday announced that he is dropping his bid for the Democratic nomination in favor of an run as an independent candidate for the 2024 presidential election.
Speaking in Philadelphia, Kennedy repeatedly referred to a "rising tide of discontent" among Americans and "corrupt powers" in Washington, D.C., adding that he wants to "declare independence" from corporations, media and the country's two major political parties.
"People are ready for a history-making change," Kennedy said. "And that's why I'm here today. I'm here to declare myself an independent candidate."
Kennedy said the decision was not one he made lightly, acknowledging his family's long history within the Democratic Party.
---
Social Security COLA to Rise 3.2% in 2024: What To Know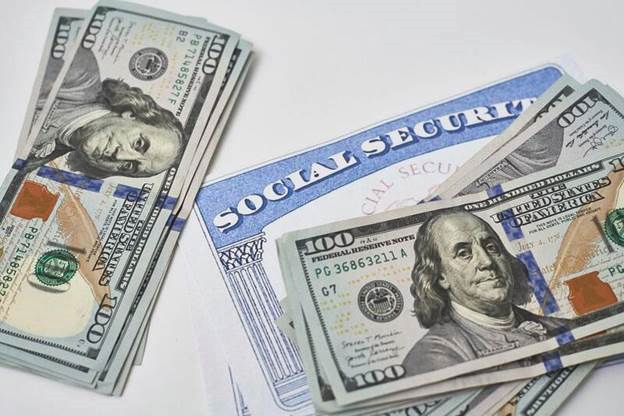 Retirees will see COLA increase 3.2% next year, the Social Security Administration announced.
More than 66 million retirees receiving Social Security checks will see their monthly government payments rise 3.2% next year, thanks to the Social Security Administration's cost-of-living adjustment (COLA) increase for 2024.
On average, Social Security retirement monthly benefits will grow by more than $50 starting in January, said the Social Security Administration (SSA), which announced the increase today, October 12.
Some other adjustments that take effect every January are based on the increase in average wages. Based on that increase, the maximum amount of earnings subject to the Social Security tax (taxable maximum) will increase to $168,600 from $160,200, SSA said. For a detailed list of 2024 benefits by category compared to 2023 benefits, see SSA's COLA fact sheet.