"Whenever a separation is made between liberty and justice, neither, in my opinion, is safe." — Edmund Burke
Russian Collusion: "And if all others accepted the lie which the Party imposed — if all records told the same tale — then the lie passed into history and became truth." To be clear, Orwell never expected 1984 to be used as a training manual.
Border Crisis: Where is Vice President Kamala Harris…it's her job – assigned by President Biden?!?
…and when is she going to hold a press conference? What is she afraid of???
Maybe she just needs another "long weekend!"
The Coyote Principle:
CALIFORNIA
The Governor of California is jogging with his dog along a nature trail. A coyote jumps out and attacks the Governor's dog, then bites the Governor.
The Governor starts to intervene, but reflects upon the movie "Bambi" and then realizes he should stop because the coyote is only doing what is natural.
He calls animal control. Animal Control captures the coyote and bills the state $200 testing it for diseases and $500 for relocating it.
He calls a veterinarian. The vet collects the dead dog and bills the State $200 testing it for diseases.
The Governor goes to hospital and spends $3,500 getting checked for diseases from the coyote and on getting his bite wound bandaged.
The running trail gets shut down for 6 months while Fish & Game conducts a $100,000 survey to make sure the area is now free of dangerous animals.
The Governor spends $50,000 in state funds implementing a "coyote awareness program" for residents of the area.
The State Legislature spends $2 million to study how to better treat rabies and how to permanently eradicate the disease throughout the world.
The Governor's security agent is fired for not stopping the attack. The state spends $150,000 to hire and train a new agent with additional special training for the nature of coyotes.
PETA protests the coyote's relocation and files a $5 million suit against the state.
TEXAS
The Governor of Texas is jogging with his dog along a nature trail. A coyote jumps out and attacks his dog.
The Governor shoots the coyote with his state-issued pistol and keeps jogging. The Governor has spent $.50 on a .45 ACP hollow point cartridge.
The buzzards eat the dead coyote.
And that, my friends, is why California is broke and Texas is not!
–Saul Anuzis
Click Here for Past Commentary from Saul
---
60 Plus Weekly Video Rewind
Fauci in the hot seat, Biden under fire for racist comments, and ANWR drilling suspended amid rising gas prices!
Links to the articles discussed in the video:
https://nypost.com/2021/05/26/fauci-facing-gop-calls-for-resignation-amid-wuhan-lab-controversy/
https://townhall.com/tipsheet/leahbarkoukis/2021/06/02/bidens-comments-about-black-entrepreneurs-n2590342
https://www.foxbusiness.com/politics/biden-suspends-alaska-oil-gas-leases-arctic-national-wildlife-refuge
---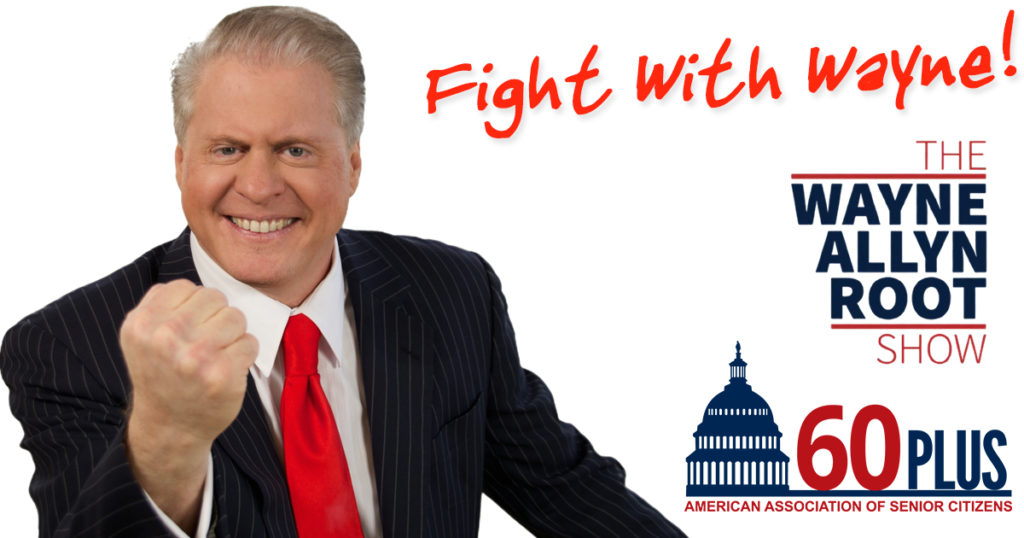 Help Us Fight Corporate Tyranny!
We have launched "the Corporate Accountability Initiative" to send a message to public companies on Wall Street. We own your stock. We fund your companies. We have the power. Stop disregarding us, stop offending us, stop screwing us over! Or we'll pull our money from your companies!
---
Anuzis: U.S. drug industry saving lives – if Congress doesn't squelch it
About 80% of seniors have received at least one dose of the Pfizer, Moderna or Johnson & Johnson vaccines, which are some of the safest and most effective inoculations ever invented. All Americans, especially seniors, should be immensely grateful for what U.S. scientists accomplished in mere months. Had it taken years to create these vaccines — as many public health experts originally predicted — hundreds of thousands more people would have perished.
American researchers are making incredible progress against a host of other diseases too. Thanks to private investment and a reasonable regulatory approach, the United States leads the world in medical innovation. It's possible that, in just a decade or two, we'll have cures for cancer, Alzheimer's and a host of other deadly diseases.
Unfortunately, some lawmakers evidently want to slam the brakes on this scientific progress. They're considering imposing price controls on prescription drugs. If any of these proposals were to pass, medical innovation would slow to a crawl. American patients — especially our most vulnerable seniors — would suffer.
Our Increasingly Unrecognizable Civilization
I live about 20 minutes south of the Canadian border, which used to be called the longest undefended frontier in the world. People moved freely back and forth across it all day every day. But now it's been closed for over a year. At one point my daughter asked me to drive her up there, because there was a 30-minute opportunity for people on one side to talk to their friends on the other. "Sad!" as President Trump would say. It was like Checkpoint Charlie in Berlin during the Cold War, except that both sides are now like East Berlin.
I don't know how this happened, but it is just one indication that America, and the West in general, have become almost unrecognizable from what they were not that long ago.
Look at just three things we have lost.
One is equality before the law, something absolutely essential to a free society. In its place, we now have politicized law. If a policeman fatally shoots someone, whether his name is released to the public depends on whether the shooting is consistent with the preferred narrative of the ruling class. A policeman recently took down a young woman who was threatening the life of another young woman with a knife, and that policeman was immediately identified—indeed, his photo was posted and he was threatened by NBA superstar LeBron James on Twitter. On the other hand, we know nothing of the policeman who shot dead an unarmed woman in the U.S. Capitol on January 6. His name will apparently never be released to the public.
Second, border control. Functioning societies, at least since the Peace of Westphalia three centuries ago, have borders. America has no southern border and no plans to get one. The official position of our government seems to be that any of the seven billion persons on this planet has a right to come and stay in the U.S. for three years, until his or her assigned court date comes up. As the number of people with pending cases continues to grow, that three years will extend out to five or seven or 15 years. If we get all seven billion people to come here, the court system will break down entirely and maybe we can go back to having a functioning border.
And third, dare I bring up the fact that it is a real question whether we can go back to agreeing to have open and honest elections? And if we don't have open and honest elections, control of our borders, and equality before the law, then we don't have the conditions for politics or free government.
And here's the thing. It is not at all clear to me that many of America's conservative politicians understand the seriousness of all this. You can see it in the fact that they go around trying to scare people with the specter of a "radical socialist agenda." For well over a year now, we have been living in a world in which it's accepted as normal that the state has essentially unlimited power—and in which our freedom to decide for ourselves has been diminished almost to invisibility. Why do these conservative politicians think the words "radical socialist agenda" still scare anyone in a time when the state can tell us whether we can have Aunt Mabel over for Christmas? They are completely out of touch.
'We need to stop CRT, period': Black father and daughter go viral slamming critical race theory
A video of a man and his young daughter slamming critical race theory and encouraging people to love others regardless of race is going viral on social media.
"How we treat people is based on who they are and not what color they are," the man says while sitting next to his daughter. She then adds, "And if they're nice and smart."
"See, this is how children think right here," the father says in the video, which has been viewed thousands of times. "Critical race theory wants to end that. Not with my children. It's not gonna happen."
What unites the GOP: Checking Democrats' lurch to the left
The Republican Governors Association spring meeting, like that of the National Republican Senatorial Committee 10 days earlier, brought together a lot of political firepower, fundraising prowess — and some key questions about 2022. Sen. Rick Scott (Fla.), who chairs the NRSC, told the audience that Democratic incumbents were vulnerable in Arizona, Colorado, Georgia, Nevada and New Hampshire. Arizona Gov. Doug Ducey, chair of the RGA, told me on my radio show that statehouses in Maine, Pennsylvania, Michigan, Wisconsin, Kansas and New Mexico are all open to GOP challengers.
The math of 2022, plus history and the extra boost from redistricting, means the House majority should be electing Kevin McCarthy as speaker in January 2023, and control of the Senate could be passing back from New York's Charles E. Schumer to Kentucky's Mitch McConnell. Ducey is so popular among his colleagues that he was asked to serve a second term as chair of the RGA. Scott, many senators told me during side conversations, is a fund-raising machine bringing a ferocious energy to the task of assembling the resources incumbents and challengers will need. The tens of millions in small donations crucial to modern politics are rolling in, wave after wave.
So, what are they talking about on stage and off, in the meetings and in the hallways of both gatherings? Three things: China, inflation and the massive expansion of the federal government that is underway — the "systemic socialism," as Scott puts it, that has gripped the Democrats under President Biden.
Founder Of Black Lives Matter In St. Paul: 'I Resigned' After 'I Learned The Ugly Truth' As 'Insider'
Rashard Turner, the founder of a Black Lives Matter chapter in St. Paul, Minnesota, revealed in a video published last week that he quit the organization after he "learned the ugly truth" while being an insider in the far-left group.
Turner made the remarks in a video published by TakeCharge, a black-led organization that rejects critical race theory and woke culture.
"That's why in 2015, I was a founder of Black Lives Matter in St. Paul. I believed the organization stood for exactly what the name implies, black lives do matter.
However, after a year on the inside, I learned they had little concern for rebuilding black families, and they cared even less about improving the quality of education for students in Minneapolis. That was made clear when they publicly denounced charter schools alongside the teachers union. I was an insider in Black Lives Matter. And I learned the ugly truth. The moratorium on charter schools does not support rebuilding the black family. But it does create barriers to a better education for black children. I resigned from Black Lives Matter after a year and a half. But I didn't quit working to improve black lives and access to a great education."
SCOTUS Unanimously Rules Against Ninth Circuit Rule that Gave Asylum to Previously-Denied Illegal Aliens
The U.S. Supreme Court (SCOTUS) on Tuesday held that federal courts have a limited role in reviewing immigration judge findings, reversing a decision from the Ninth Circuit appeals court that helped grant immigration relief to illegal aliens seeking asylum.
Justice Neil Gorsuch wrote in a 9-0 decision that there is "nothing in the [Immigration and Nationality Act]" that "contemplates anything like the embellishment the Ninth Circuit has adopted" when deeming that an illegal alien's testimony in an immigration case must be considered credible and true if not explicitly stated otherwise by an immigration judge or the Board of Immigration Appeals (BIA).
"The Ninth Circuit's deemed-true-or-credible rule cannot be reconciled with the INA's terms," Gorsuch writes in the unanimous opinion.
Cesar Alcaraz-Enriquez, a previously deported illegal alien from Mexico, and Ming Dai, a Chinese national who first arrived on a B-2 tourist visa, had sought asylum in the U.S.
Supreme Court May Be Sending a Stealth Message to Democrats
Legal analyst Jonathan Turley thinks the United States Supreme Court is sending a message to the Democrats about their not-so-secret plans to pack the court—and I think his theory has merit.
Turley believes that four recent unanimous decisions by the Court are a message to the Democratic majority that the Supreme Court is "not so rigidly ideological as Democratic members and activists suggest."
Turley also notes that a number of current and former justices, including Ruth Bader Ginsburg, have publicly warned against packing the court. "If anything would make the court look partisan, it would be that—one side saying, 'When we're in power, we're going to enlarge the number of judges, so we would have more people who would vote the way we want them to,'" RBG said shortly before she died.
But, that hasn't stopped Democrats from insisting that the court needs reform—or, as some Democratic leaders have tried to brand it, unpacking. Democrats have laid down the groundwork to (falsely) claim that the Republican Party has packed the court, and they are simply trying to bring balance back. To do this, they deem various acts by the GOP "court-packing" when they are most certainly not.
"The litany of unanimous rulings amplifies the fact that most cases are resolved with compromise and different alignments of the justices," suggests Turley. "There are always 'big ticket' cases that produce more ideological divisions but they are the exception rather than the rule for the Court. These are honest ideological differences and we want the justices to be consistent on their underlying principles. However, most of the work of the Court remains less ideologically driven on issues ranging from statutory interpretation to evidentiary rules."
America the Outlier: Voter Photo IDs Are the Rule in Europe and Elsewhere
Democrats and much of the media are pushing to make permanent the extraordinary, pandemic-driven measures to relax voting rules during the 2020 elections – warning anew of racist voter "suppression" otherwise. Yet democracies in Europe and elsewhere tell a different story – of the benefits of stricter voter ID requirements after hard lessons learned.
A database on voting rules worldwide compiled by the Crime Prevention Research Center, which I run, shows that election integrity measures are widely accepted globally, and have often been adopted by countries after they've experienced fraud under looser voting regimes.
Of 47 nations surveyed in Europe — a place where, on other matters, American progressives often look to with envy — all but one country requires a government-issued photo voter ID to vote. The exception is the U.K., and even there voter IDs are mandatory in Northern Ireland for all elections and in parts of England for local elections. Moreover, Boris Johnson's government recently introduced legislation to have the rest of the country follow suit.
Criticisms of the British leader's voter ID push are similar to those heard in the U.S. The Scottish National Party claims his voter ID push targets "lower income, ethnic minority and younger people" who are less likely to vote for Johnson's conservatives and therefore represents "Trump-like voter suppression."
Yet despite such pushback, Britain looks set to follow countries in Europe and elsewhere with stricter voting regimes, few of which temporarily relaxed any of their voting rules during the pandemic.
Seventy-four percent of European countries entirely ban absentee voting for citizens who reside domestically. Another 6% limit it to those hospitalized or in the military, and they require third-party verification and a photo voter ID. Another 15% require a photo ID for absentee voting.
NRA Announces 150th Annual Meetings & Exhibits in Houston
The National Rifle Association is pleased to announce its 150th Annual Meeting & Exhibits to be held in Houston Sept. 3 through 5, 2021. The bigger-than-ever exhibit hall will feature more than 800 exhibitors and acres of the latest guns, knives, optics, ammo and accessories available.
The NRA is excited to host its 150th anniversary celebration in Texas this fall. This event is a much-needed and anticipated gathering for tens of thousands dues-paying members and millions of gun owners after the COVID-19 pandemic forced the cancellation of our 2020 convention.
We are proud to announce MidwayUSA is returning as the official sponsor of this three-day event to be held at the George R. Brown Convention Center. Patriots will gather to enjoy this family-friendly event featuring the most spectacular displays of every imaginable firearm on the market. NRA members can also book the hunt of a lifetime, purchase shooting and hunting accessories, view priceless gun collections and see celebrities walking the aisles. In addition to the exhibition floor, NRA members will enjoy the camaraderie of other freedom-loving members as they attend the many events, receptions and demonstrations happening throughout the weekend.
For more information, visit www.nraam.org.
Russia to form 20 new military units in west to counter NATO
Sergei Shoigu made the announcement at a meeting with top military officials. He pointed to a growing number of flights by U.S. strategic bombers near Russia's borders, deployments of NATO warships and increasingly frequent and major drills by alliance forces.
He charged that such actions "destroy the international security system and force us to take the relevant countermeasures."
"We will form another 20 units and formations in the Western Military District until the year's end," Shoigu said
He added the military units in Western Russia have commissioned about 2,000 new pieces of weaponry this year.
Asked Monday about Russia's plans, NATO Secretary-General Jens Stoltenberg noted that "Russia over the last years has invested heavily in new, modern military capabilities, from conventional to nuclear weapon systems" and "has been willing to use military force against neighbors, in Georgia, in Ukraine."
"This is one of the main reasons why NATO over the last years has increased the readiness of (its) armed forces," he told reporters before Tuesday's meeting of the alliance's foreign and defense ministers.
Currently, thousands of NATO troops, several warships and dozens of aircraft are taking part in military exercises stretching across the Atlantic, through Europe and into the Black Sea region.
NATO says the war games aren't aimed at Russia, but the Steadfast Defender 21 exercises are simulating the 30-nation military organization's response to an attack on any one of its members. It will test NATO's ability to deploy troops from the U.S. and keep supply lines open.
Washington State Mandates Critical Race Theory In All Public Schools
While critical race theory training is pitched as a way to ensure 'equity' in the classroom, in truth, it's far more sinister.
As several states move to ban toxic critical race theory from indoctrinating students, the state of Washington is leaning in.
The race-obsessed framework isn't relegated to schools in Seattle, where you'd expect a victim-centered ideology like critical race theory to flourish. Thanks to the state's Democrat-controlled legislature, a trio of bills just signed into law mandates critical race theory training for all public school teachers. Another even requires training for medical students, teaching them it's as essential to be social justice activists as it is to treat patients.
While the critical race theory mandates go into effect in the 2022-2023 school year, many districts are already jumping on board. The Issaquah School District vows it will fight racism by "identifying and removing bias and systemic and institutional barriers that create marginalization," while Bellingham Public Schools pushes training to guarantee "inclusive education" for students.
At Seattle Public Schools, they've even developed a "Racial Equity Team," a group of far-left educators seeking that schools make all of their decisions through a racialized "equity" lens. To effectively carry out this mission, they say, staff need training. Highline Public Schools, a majority-minority district south of Seattle, has mandated similar training for years, even holding an annual race symposium where staff express their displeasure with being "privileged" and white.
"I felt like yesterday I realized that I'm white and that I have all the advantages of being part of that group," one white staffer says. "Privileges that I don't really think I fully understood until yesterday. I was reading 'White Fragility,' and I'm like, 'Oh, OK.' I think I'm taking that next step in my journey to understanding what's happening, what equity is about, what racial equity is about, what anti-racism is about, and what racism is about."
During hours-long sessions, staff learn race is a social construct that has "been adapted to meet the needs of white supremacy culture." If you get defensive at being labeled a racist, facilitators say it's an example of white supremacy in action.